ENow Software ranks #1640 overall and #9 for LA Metro software firms
CORONA, CA – September 4, 2014 –As a result of 259% growth since 2011, ENow, a leading Microsoft monitoring and reporting solution developer (ISV), announced the company is included on the 2014 Inc. 5000, an exclusive ranking of the nation's fastest-growing private companies published by Inc. Magazine. ENow was ranked #1640 in this elite group, and the company achieved #9 ranking for software companies in the Greater Los Angeles Metro area..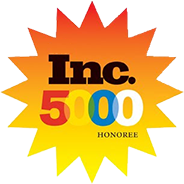 The 2014 edition of the Inc. 5000 list is the magazine's 33rd annual ranking of privately held companies. ENow is making its first appearance on the list . The 2014 Inc. 5000, unveiled in the September issue of Inc. Magazine, showcases companies that have achieved rapid growth in a competitive market and show "the face of American entrepreneurship at its best."

"Our success is a direct result of having a forward thinking team that is always looking for ways to improve our solutions," said ENow CEO Jay Gundotra.
According to the vetted entry, ENow has sustained continued growth of more than 50% for the past 3 years straight. This tripling in size can be attributed to the growth of Microsoft communication applications like Exchange, Lync and Active Directory and the need to monitor its activity and real-time status across complex enterprise landscapes. ENow's growth is also keeping pace with the trending need to deploy, monitor and manage Microsoft Lync and Exchange Online for Office 365 in hybrid environments. A hybrid deployment combines traditional server-side, on premise elements with virtual cloud-based platform.
Recently ENow recruited internationally-recognized thought leader in hybrid technology and two-time Microsoft MVP winner Michael Van Horenbeeck ("Van Hybrid") to oversee the continued development of ENow's signature solution Mailscape. According to Gundrota, the move emphasizes a key building block in ENow's continuing commitment to support and promote the strategic benefits of hybrid environments.

According to Radicati Group research, Microsoft Exchange accounts for more than 51% of all worldwide mailboxes in the business email and collaboration/messaging market. Of those millions of servers, more than 17% are hosted in hybrid environments. Gartner predicts by 2017, that half of mainstream enterprises will migrate to hybrid environments.
As evidenced by ENow's inclusion on this year's Inc. 5000 list, Mailscape and Lync-centric solution Uniscope, are gaining traction by guiding IT departments to transform time-consuming manual processes into automated and proactive services to prevent outages, slowdowns and misuse. ENow's offerings afford better visibility into cornerstone applications like Exchange and Lync to give a comprehensive analysis of both on-premises and virtual deployment usage.
This year's Inc. 5000 companies will be honored at the 33rd Annual Inc. 5000 Conference and Awards Ceremony, which will be held October 15-17, 2014 at the JW Marriott Desert Ridge Resort and Spa in Phoenix, Arizona. To read more about the companies included in this year's Inc. 5000 list, please visit www.inc.com/inc5000. To learn more about ENow, please visit www.enowsoftware.com.
# # #
About ENow

ENow is in over 60 countries around the world and used by companies like Wendy's, Hill & Knowlton and Aegis Media. As a Microsoft Silver ISV, they are focused on helping organizations implement the latest Microsoft technologies and building software tools that simplify the job of IT administrators. Built and founded by Exchange engineers, ENow has developed a series of comprehensive monitoring and reporting solutions and services to help organizations better manage Microsoft technologies. Since 2004, ENow has created simplified-yet-comprehensive enterprise monitoring and reporting solutions allowing companies to move from rear-view mirror response to proactive management of its Microsoft infrastructure. This includes Exchange, Active Directory, SharePoint and Lync. Visit ENow at www.enowsoftware.com.