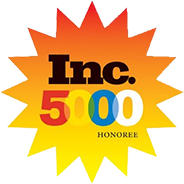 Aliso Viejo, CA – August 27, 2015 – As a result of 203% growth since 2012, ENow, a leading Microsoft monitoring and reporting solution developer (ISV), announced it earned the #1948 spot on the 2015 Inc. 5000 list, an exclusive ranking of the nation's fastest-growing private companies. ENow ranked #1640 in 2014 and #9 for software companies in the Greater Los Angeles Metro area.
The 2015 edition of the Inc. 5000 list is the magazine's 34th annual ranking of privately held companies. The list was unveiled in the August issue of Inc. Magazine and showcases companies that have achieved accelerated growth in a competitive market. According to Inc., it provides "the most comprehensive portrait of America's fastest-growing private companies assembled anywhere."
On average, companies on the list have grown almost sixfold over the past three years. According to the site, "Entrepreneurs on our list distinguish themselves by growing their companies quickly. They've also discovered what they need to know faster than other founders."
Microsoft Exchange Server and Office 365 solutions account for more than 51 percent of all worldwide mailboxes in the business email and collaboration market, and 17 percent are hosted in hybrid environments. By 2017, Gartner predicts half of mainstream enterprises will migrate to hybrid environments. Thanks to the growth of Exchange Online and Office 365 adoption, ENow has continued to refine its award-winning software and maintain an impressive growth trajectory – helping administrators accelerate the setup and configuration of their hybrid deployments and ensure all networking components are working properly.
Preserving a solid end user experience is critical to the success of any deployment, including Office 365. Cloud platforms are enormously flexible and powerful, but they do break from time to time. Mailscape 365 eases your transition to Office 365, giving administrators confidence in their configuration and saving hours of troubleshooting time when outages happen.
"Our dedication to providing effective monitoring and reporting solutions that address real pain points administrators face has catapulted our growth in the past year," said ENow CEO Jay Gundotra.
Having the ability to understand when something goes wrong and why the problem has occurred, especially in the complex components involved in hybrid connectivity and mail transport, allows you to quickly detect and solve outages. Mailscape 365 provides visibility into issues that develop within Office 365 so mail keeps flowing and users remain productive.

This year's Inc. 5000 companies will be honored at the 34th Annual Inc. 5000 Conference and Awards Ceremony, which will be held October 21-23 at the JW Marriott Orlando Grand Lakes. To read more about the companies included in this year's Inc. 5000 list, please visit http://www.inc.com/inc5000?cid=so500015. To learn more about ENow, please visit www.enowsoftware.com.
# # #