Our goal for today is to deploy Lync 2013 Persistent Chat components.
First of all, a brief technical introduction and some basic history on this feature.
Persistent Chat service (which replaces the Group Chat service used in Microsoft Lync Server 2010 and Office Communications Server 2007 R2) provides organizations with messaging and collaboration capabilities similar to those found in Internet discussion forums: users can exchange messages in real-time, yet can also revisit and restart those conversations at any time. Conversations can be based around specific topics, and these conversations can be made available to everyone or to only a selected set of users. Likewise, individual chat rooms can be configured so that anyone can post a message or configure so that only designated presenters can post messages.
In addition to the functions listed above some organizations are required to maintain archives of all their electronic communications; this includes conversations that might take place using the Persistent Chat service. Lync Server allows you to create a separate compliance database that keeps a detailed archive of everything that happens in your Persistent Chat rooms. Persistent Chat compliance can be enabled or disabled at the site scope or at the service scope (that is, compliance can be enabled or disabled for a given Persistent Chat pool).
In previous versions Group Chat was standing out as not being an integral part of the product. The main reason for that was Microsoft purchasing company called Parlano back in 2007 and used their MindAlign group chat platform. I can't think of any words other than painful thinking about my first experience deploying Group Chat for OCS 2007 R2. There were a lot of surprises on the way, hence I was anxious to give Persistent Chat another chance.
Honestly, things have changed. These days "Group Chat" is named "Persistent Chat". No additional client installation is required to use the feature, and finally the installation and administration are incorporated into the regular Lync interfaces such as Topology Builder, Control Panel and Management Shell.
Persistent Chat can be deployed in number of different configurations. The simplest one (which we are going to review shortly) is to install Persistent Chat components on a standard edition Lync server collocated with all other Front End components. Other scenarios provide local redundancy by deploying Persistent Chat as a pool of up to 4 servers hosting up to 80,000 users. High availability topology is also available. Persistent Chat servers can span over two sites being members of the same pool. SQL mirroring is involved to make cross site topology highly available.
As I mentioned in this guide we are going to cover basic topology by deploying Persistent Chat on a standalone Front End server.
Before you start please make sure that the existing Front End server has enough capacity in terms of physical resources: CPU, memory, disk space, etc.
Account used to deploy Persistent Chat has to have local administrator privileges on the server, in addition to membership in Domain Admins and RTCUniversalServerAdmins groups.
Open Topology Builder and download existing topology:
Make a backup of the existing topology:
Navigate to the appropriate site and locate Persistent Chat pools:
Right click on Persistent Chat pool and choose New Persistent Chat Pool:
Specify FQDN of an existing Front End server and select Single computer pool option:
Name your pool and choose to enable compliance:
Select the local SQL instance to be used for storing Persistent Chat data:
Select local SQL instance for storing compliance data:
Select local file store: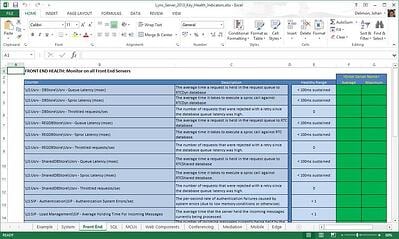 Validate the new setting have been populated into the topology:
Publish the topology: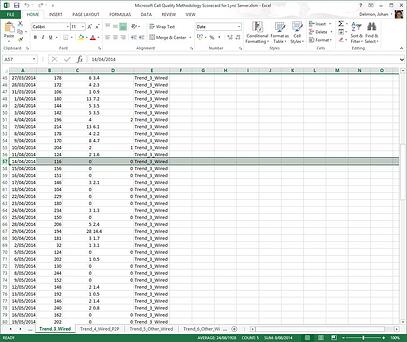 Validate topology was successfully published:
Let's prepare the Front End server by installing MSMQ (if not present):
At this point we can install necessary files for Persistent Chat. Under Program File, locate Microsoft Lync Server 2013 folder, open Deployment folder and launch Deploy.exe:
Click on Install or Update Lync Server System:
Click Run button next to Step 2: Setup or Remove Lync Server Components:
Follow the prompts to complete installation:
If you open Services.msc, two new services can be spotted: Lync Server Persistent Chat and Lync Server Persistent Chat Compliance: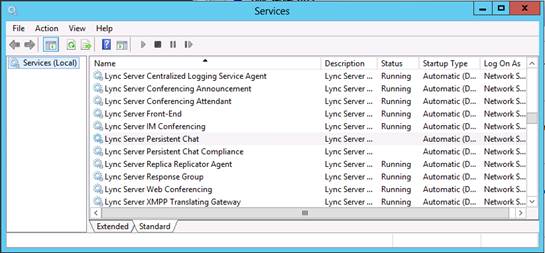 Start those two services:
We are almost there. Open Lync Control Panel, navigate to Persistent Chat, Persistent Chat Policy tab and check Enable Persistent Chat option:
One more step. If you open Event Viewer you will find an error event similar the one in the screenshot:
New Compliance Adapter needs to be configured to allow for the compliance service to collect data. In the example below I have used Microsoft provided adapter and configured collection interval to every 10 minutes:
Users should be able to see a new tab in their Lync client:
This is it. The build is done, hope you enjoyed it.
In the next part I will do my best to cover configuration and administration involved in managing Persistent Chat feature.