Next week Exchange administrators and Exchange MVP's are looking forward to Microsoft's Exchange conference MEC 2014 http://www.iammec.com/. The conference is scheduled from March 31st through April 2nd in Austin, TX at the Austin Convention Center. The conference covers all aspects of Exchange including deployment and migration of Office 365 and Exchange On-Premises, security, e-discovery, compliance, support, manageability, architecture and much more. If you love to learn about Exchange and its possibilities then MEC is the place to be next week.
The speaker and session lineup is impressive making it almost impossible to choose which topics to pursue, and the networking opportunities are also impressive. Here are some of the highlights to look forward to:
Sunday, March 30th from 6:00 – 8:30 pm Microsoft is hosting a Welcome Reception in the Exhibit hall. While you are there be sure to stop by the Enow Software Booth to learn more about MEC Trivia where you can win up to $1000 for answering questions correctly about Exchange.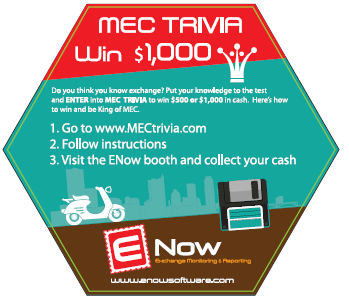 Monday, March 31st starts with the conference keynote and ends with the Microsoft Sponsored Rainey Street Party from 6:30-9:30pm. The "in between" is of course full of great sessions such as Unified Messaging, Office 365, Modern Public Folders and Experts Unplugged topics where the "real" answers to your questions will be revealed.
Tuesday, April 1st is a day packed with great content covering Regulatory Compliance, Transport Architecture, Office 365, Outlook Web App, more Experts Unplugged topics and just about anything and everything else you can think of that relates to Exchange. The day ends with several vendor activities that are on the conference schedule.
Also that evening Enow Software is sponsoring Scheduled Maintenance. If your servers are not the only things that need a little TLC, Enow Software and the UC Architects (theucarchitects.com) are hosting a party that will help out with this. So if you will be at MEC and you are interested in attending visit schedulemymaintenance.com. The attendee list is limited, so register soon.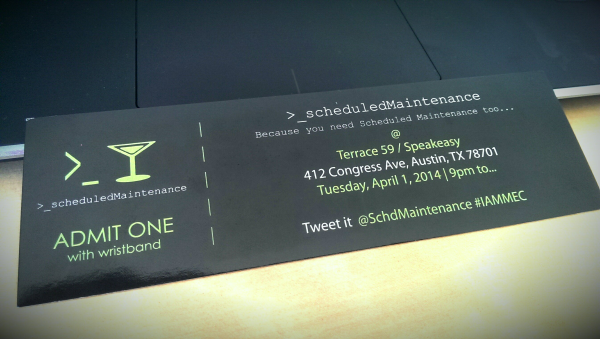 (did you register for one of these yet?)
Wednesday, April 2nd is final day of the conference and is again packed with great content including sessions on hybrid exchange deployments, disaster recovery, retention policies and last but not least a live recording with the UC Architects.
If you'll be attending and can't decide where to spend your time, be sure to check out the following recommendations from: Jeff Guillet, Dave Stork and Tony Redmond.
This is going to be a great conference for anyone who is looking forward to learning about anything and everything Microsoft Exchange. Also, if you are unable to attend MEC follow @EnowConsulting and @ScheduledMaintenance on Twitter to get the conference scoop on product announcements, session recaps and more. Also, watch the Enow Blog for follow-up articles on conference topics at http://blog.enowsoftware.com/solutions-engine/