The Keynote
The MEC 2014 conference was amazing and brought together email administrators from around the world to talk about Microsoft Exchange. The conference started with a keynote where they announced the introduction of OWA for Android. This offering provides Android users another option for their daily needs and provides an alternative to ActiveSync. OWA for iPhone was already previously available.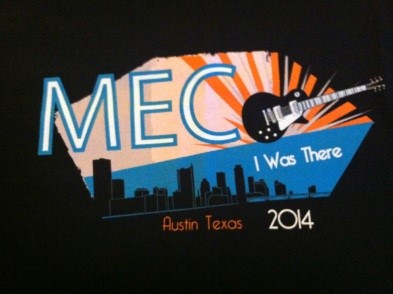 (MEC 2014 T-shirt by ENow)
Other keynote insights on the future direction of Exchange and Office were:
The future includes focus on the cloud, social integration, security and compliance
Use of Data Loss Prevention to empower the user, help maintain compliance and allow organizations to enjoy enhanced security
The cloud-based file sharing platform called One Drive when used with Microsoft office automatically provides file security to those the attachment is being sent to.
Last but not least, all of the attendees were surprised with Dell Tablets! Thank you Microsoft!
Technical Content
After the keynote was over it was time to dive into great technical content that provided attendees with that latest and greatest guidance and everything and anything Exchange. Whether you were looking for information about Exchange on-premise or Office 365 there were deep dive sessions for everyone. When reaching out to conference attendees about what they considered the technical highlights, this was their feedback:
Exchange Unplugged Sessions were a favorite because attendees were able to ask panel experts anything they wanted about specific topics creating free flowing learning opportunity.
They enjoyed general exposure to the latest and greatest information on Microsoft Exchange Best Practices for Exchange On-premise upgrades, Office 365 and Hybrid Exchange deployments.
Learning about new features such as Office 365 offerings around Personalized Inbox Options (clutter, personal view and more), Office Graph and Multi-factor authentication.
Modern public folders were also considered a fun topic.
Data Loss Prevention options in Exchange 2013 SP1 and Office 365.
The UC Architects
One of the final sessions of the conference was a live recording of Episode 36 of the UC Architects podcast. They covered many conference topics in their podcast. Here are just a few of the many conference highlights they discussed:
Yammer! While Yammer was not covered with a conference session it was discussed here. There were varying opinions on this topic amongst the group with some in favor and some not. A comment was made that the conference session information posted in Yammer for the conference was useful. Yammer is one to watch.
Like the attendees they are interested to see how the newly announced features are received such as Clutter, Office Graph, Personal View and more. It was commented that these are all fascinating technologies and if working with these new products including Yammer help do jobs better, then this is great.
They discussed Office Applications for tablets and phones including OWA for Android. The introduction of these tools bridge BYOD devices and can help with containerization, but these products do not compete with all the features of MDM products.
For the rest of their conversation, thoughts and opinions watch for the entire podcast to be released at www.theucarchitects.com website soon!
Social Activities and Other Events
Like any conference, MEC was busy with social activities as well. Highlights were the Microsoft sponsored Rainy Street Block Party and the ENow/UC Architects "scheduledMaintenance party".



(The UC Architects featured on the wall of the scheduledMaintenance party)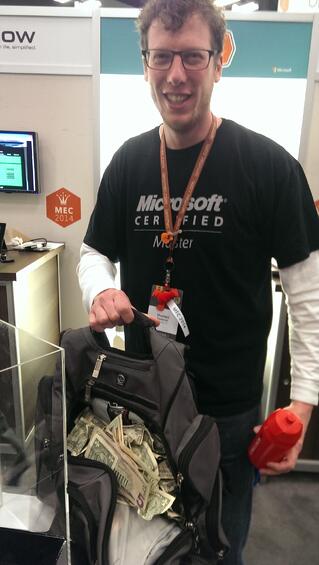 Maarten receiving MEC Trivia 2nd place prize of $500
On Monday evening, Microsoft blocked off Rainey Street for conference attendees. This street is full of bars that at one time had been homes. Rainey Street had a charming feel to it, but more importantly conference attendees had the opportunity to network with other Exchange gurus and relax after a long day of conference sessions. On Tuesday evening, the UC Architects party sponsored by ENow was held on the rooftop of the Speakeasy bar in downtown Austin. Yet another opportunity to network, meet the UC Architects, knowledge share and relax.
Conference Hall highlights included Exchange Trivia games by Binary Tree and ENow Software. Binary Tree offered a quiz game where contestants solved binary puzzles to win prizes. ENow and Tony Redmond partnered to develop a challenging Exchange quiz with a $1000 prize for first place and a $500 prize for second place. Congratulations to all the winners of these trivia games! It was a challenge, but the payoff was worthwhile.
Behind the scenes, the Microsoft Product Group and Exchange MVPs were also recognized for their contributions to MEC and the Exchange community. Congratulations to Paul Robichaux who was awarded Exchange MVP of the Year! The following article acknowledges ALL these key contributors and their awards as well. http://thoughtsofanidlemind.com/2014/04/02/exchange-oscars-at-mec-2014/
In summary, from the keynote to the conference close there was something here for everyone. Overall, MEC 2014 was a great conference!
The Exchange Godfather (Tony Redmond) dishing out Exchange Trivia to the Exchange Jedis