Update 29th of January 2015 : Microsoft has released a newer Skype Desktop client v7.1.0.105 that enables Video calling again after disabling it for a little while. Please do not use Skype Desktop client v7.0.x.100 which is mentioned in the blogpost as that version will no long work for Video calling.

Microsoft has made two public announcements about the Lync to Skype or Skype to Lync video calling. While the blog post on skype.com is very general the blog post on office.com is pretty technical. When I read these blogs I wonder if some people will require further explanation, which is exactly what I will do for this blog post. (I will be talking mainly about the blogpost for office.com)
Skype and Lync deliver video calls
http://blogs.skype.com/2014/12/05/skype-and-lync-deliver-video-calls/
Video calling between Skype and Lync available now
http://blogs.office.com/2014/12/05/video-calling-skype-lync-available-now/
Here is what the blogpost says:
(I will be explaining the sections and go through the details, my comments are in green and bold)
Editor's Note:
The video calling with Lync requires Skype for Windows desktop client version 7.0.x.100. We are experiencing issues with some browser versions where an older client is downloaded. If you've downloaded using the link below, and the version is not 7.0.x.100, please download using a different browser.
The Editor's note mentions Skype for Windows desktop and refers to a specific build 7.0.x.100. This means if you try to initiate a Video call with any other Skype client for Windows Desktop (with a lower version number), Windows Modern, Windows Phone, Xbox, Mac, iOS, Android, Skype for Web or any other client that may exist out there Video calling will not work. These versions of the Skype client still use the Lync to Skype Gateway Version 1 which only supports IM, Presence, Contacts with Microsoft Accounts and Voice Calls.
You will require Windows Machine with at least Windows 7 and the specific Skype build mentioned above. This specific version will use the Lync to Skype Gateway Version 2 which supports Video calling amongst other things.
In respect to Lync Clients, there are not really any restrictions at this point, any Lync client will do but please update to the latest version. I have tested connectivity with both Lync 2010 and 2013, even Office Communicator 2007 R2 works when enabling Video with the specific build for Skype.
More info here:
Video calling between Skype and Lync first look
http://www.pro-lync.be/blogs/lync2013/archive/2014/12/05/video-calling-between-skype-and-lync-first-look-amp-the-details-on-a-surprising-codec-being-used.aspx
Skype & Lync Interop also works with Legacy Lync Clients
http://www.pro-lync.be/blogs/lync2013/archive/2014/12/11/skype-amp-lync-interop-also-works-with-legacy-lync-clients.aspx
In 2013, we enabled Lync users to contact people on Skype using instant messaging, presence, and audio calling right from your contact list. I'm happy to say that we've now taken the next step by adding video calling between Lync 2013 and the latest Skype for Windows desktop client, available for download here. Now Lync users can conduct everyday business and collaboration "face-to-face" with customers, partners and suppliers who use Skype.
The first link in this section refers to the availability of the Lync to Skype connectivity Version 1 which was delivered on 23rd of May 2013.
The announcement of adding Video calling between Lync and Skype may be just one line but in reality means a huge change for the Lync to Skype connectivity which has been upgraded to Version 2. The new Version of the Lync to Skype Gateway (v2) completely changes the way Lync and Skype do Audio and Video calls.
In the Gateway v1 timeframe the Skype cloud would take the Audio stream from Lync and relay it to the Skype Clients. There was no direct connectivity what so ever between Lync and Skype directly.
Now in the Gateway v2 release the Skype cloud no longer relays the Media calls, rather the Skype and Lync client negotiate the Audio and Video stream between each other, removing the roundtrip to the Skype cloud, this however has had a huge performance improvement on the Media stream, especially when outside of the US (The media stream used to hairpin through the Skype cloud in US).
Having the direct Media connectivity has other implications that we will discuss in a later paragraph.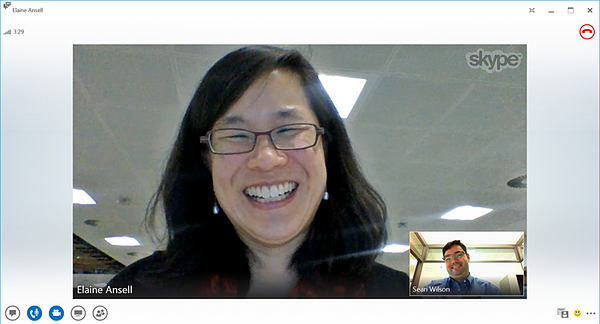 The screenshot above shows a video call from the Lync perspective. Whether you're using Lync or Skype, it's an easy, familiar experience—you make the video call the same way you make any other call, with the same options for starting, stopping, re-sizing and maximizing video. (As you can see from the picture, Elaine and Sean are pretty excited about the update; Elaine blogged about it on Skype.com.)
This is an example of a Video call between Lync and the Skype for Windows Desktop version 7.0.x.100.
The best of both
What's not obvious from the screenshots is the work we've done in the underlying media stack to enable the connectivity. Lync and Skype have always delivered phenomenal voice and video experiences to business and consumer users across a wide range of environments and network conditions. Now, we're taking the best of both to make both even better.
Indeed, you cannot really see the details of the hard work Microsoft has delivered for integrating the Video capabilities into Skype. I will provide a closer look at some of the details and explain in more depth by breaking it down into sections in the next paragraph.
This includes built-in security, with enterprise class encryption of both media and signaling using TLS and SRTP, enabled by default.
All of the features above are coming directly from Lync. Lync has security built into the product starting from the beginning of time going all the way back to Live Communications Server 2005. It is crucial for Skype to honor the secure way Lync communicates with people within the company, with business partners and now also with people on Skype.
Back in Version 1 of Lync to Skype connectivity, configuration was required on Lync to support encryption only so that we could talk to Skype.
TLS = Transport Layer Security that is used to encrypt the Signaling which is based on SIP (Session Initiation Protocol) between Lync and now also Skype.
SRTP = Secure Real Time Protocol that is used to encrypt the Media Stream which is based on RTP (Real Time Protocol)
It includes connectivity, with standards-based traversal of personal and corporate firewalls using STUN, TURN and ICE.
All of the features above are coming directly from Lync. Lync has the capability to communicate with all endpoints regardless of networks or locations, this is accomplished by means of STUN, TURN and ICE which are protocols that are used to establish Media connectivity even when devices are located behind firewalls. This is also a highly important feature for Skype as Skype needs to be able to communicate with all Lync clients and therefore requires the support for these protocols in order to successfully establish Media connectivity.
It includes high quality, scalable video using the industry standard H.264 SVC codec.
The H.264 SVC Video codec standard is the primary codec being used in Lync 2013. This standard is not a Microsoft standard but an Industry wide standard. This codec is also required by other 3rd party vendors to get Lync interoperability approval. This Video codec needs to be supported by the Skype client in order to get the best available video Quality between Lync and Skype. The new Skype client does support this Video codec.
Finally, it includes the SILK audio codec as the default choice for Lync to Skype calls. SILK is used for billions of minutes of audio calls every day, and provides a phenomenal balance between audio quality, bandwidth utilization and power consumption.
While all the other technical protocols and codecs came from Lync, this specific codec has been used by Skype clients for quite some time, and is based on Microsoft testing the SILK codec which the Skype codec out performs the default Peer to Peer codec from Lync which is RT Audio. The Lync 2013 client has incorporated support for the SILK codec for a while now but was never used until recently between Lync 2013 and the Lync mobile clients. Now with the release of Lync to Skype connectivity v2 it is used for Audio calls between Lync and Skype.
(The testing I did found that the actual codec used now is RT Audio for Lync to Skype calls, but that will likely change in the future. Details here http://www.pro-lync.be/blogs/lync2013/archive/2014/12/05/video-calling-between-skype-and-lync-first-look-amp-the-details-on-a-surprising-codec-being-used.aspx)
The provisioning guide for Lync-Skype connectivity includes instructions for both Lync Online and Lync Server 2013 customers to enable the capability, and the end user guide shows how to add contacts and make calls. The video calling requires an up-to-date Lync 2013 client on either Android, iOS or Windows. It works today with the latest Skype for Windows desktop client only, and requires that the Skype user sign in with their Microsoft account.
If you deploy Lync, the Lync to Skype connectivity is not enabled by default, you have to do some type of configuration to get the integration working. If you don't have an EDGE Server you will have to install and configure a Lync EDGE Server and enable federation with Office 365 amongst other things in order to have Lync to Skype connectivity.
What's Next?
As excited as we are about this, we know we have more work to do. We will extend support to the Skype clients on additional platforms, starting with Android and iOS in the coming months. We will add support for SkypeIDs and make it easier to find and add contacts from the worldwide Skype directory when the next version of Lync becomes Skype for Business in the first half of 2015. These planned improvements to Lync Skype connectivity are just one example of how Skype for Business will keep and improve on all of the capabilities of Lync.
There is a lot more coming in respect to Lync & Skype interop, Microsoft is working on other Skype clients to get the same experience as the Windows Desktop client starting with iOS and Android. Hopefully it will not take too long to have all Skype clients on par with these capabilities.
Another very welcome addition is the capability to just work with Skype IDs as for now you need or a Skype ID paired with a Microsoft account or just a Microsoft Account. This is not a very good experience as some people just don't have a Microsoft Account tied into the Skype ID and then there is no communication what so ever between Lync and Skype. So adding the Skype IDs to the Lync to Skype interop without requiring a Microsoft Account is an immensely useful feature.
Being able to search for contact in the Skype directory just from Lync is also going to be awesome.
Last but not least, Microsoft talks about Skype for Business being released sometime within the summer timeframe 2015. This will not be the final destination for the journey Microsoft had in mind when buying Skype. You can expect Lync and Skype to integrate more and more to enable a wealth of great communication options.
Hopefully this clarifies some of the things Microsoft announced with regards to the Lync and Skype interconnectivity.
If you want more detailed information, just tune into the Webcast I will be doing on Lync to Skype Connectivity. This webcast will talk about all of the details.
The Skype momentum continues!! Lync-Skype Connectivity is the foundation to delivering Microsoft's promise to connect enterprise to consumers around the world. When and how should we best use Lync and Skype together in the Enterprise? In this session we will be diving deep into the Lync to Skype connectivity Version 2. Register here.
Follow the link to read part I of Johan's blog series: "Skype & Lync Part I: Announcements"
Also be sure to watch Lync MVP Johan Delimon's webinar: Lync & Skype Connectivity Deep Dive