One of my favorite parts of being ENow's CTO is bragging on the work our technical team does. I'm delighted to announce the latest GA release of the ENow Management System, 7.2.0.1999. (Yes, that's an odd version number—we purposely chose it in honor of Prince's passing. Now we can, with a straight face, tell our customers to party like it's 1999, as long as "party" means "upgrade" and "like it's 1999" means "with our awesome new installer.")
Picking and choosing
Since I've joined ENow, a few patterns have become very clear to me. First is that we are very lucky to have engaged, enthusiastic customers who are eager to give us useful suggestions on how to make our products better. (Thanks to everyone who's emailed or spoken to me to give me that feedback!) If anything, we often get more feedback than we have time or resources to implement—something neatly summed up by a catchphrase in my family, "you can do anything but you can't do everything." Prioritizing features according to customer demand, our development timeline, and our strategic product roadmaps is a really interesting part of my everyday work that deserves its own blog post another time. However, we have four key product principles that we want to follow:
1. We help customers cut the mean time to resolution (MTTR) for problems in all the products we monitor. That means we have to be really focused on how…
2. We provide actionable insights, not just collections of data—we need to process and display the monitoring and reporting data we collect, and filter and prioritize it so that…
3. We trim the troubleshooting tree to eliminate wasted time (such as RDPing into a server and looking at its event log as a first step)
4. We accelerate migrations both to the cloud and between on-prem systems. We do this not by providing tools to migrate data but by applying #1 and #2 to migration operations.
If you keep these four principles in mind, it's easy to see why we chose what to include in this release.
What's new in this release
First, let's talk about Insights, our new reporting feature. Gathering data to report has always been one of our strong points, but we've gotten a lot of customer feedback asking us for more attractive, more interactive reports. This release marks the introduction of a new reporting engine that lets you see and work with the reporting data we gather using a modern, responsive interface. We started with a dozen of our most frequently-used reports and will be converting existing reports to the new Insights engine in each successive release until they're all moved. Check out an example: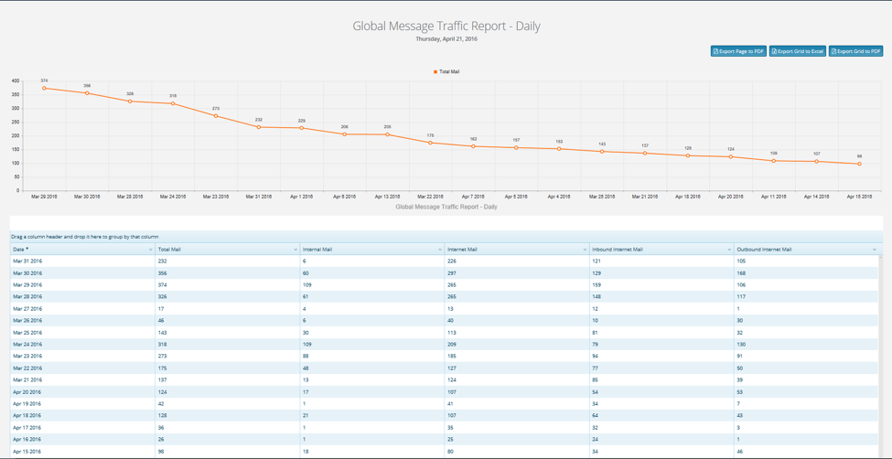 You can sort columns, group data by dragging column headers into the grouping area, and export the report easily to PDF or Excel. Many of our enterprise customers use our products' reports to help generate key performance indicators (KPIs) for their executive management or to track long-term trends over time, both of which get much easier with these new features.
Along with Insights, we also added two new sets of reports to Mailscape 365: one for Active Directory Federation Services (AD FS) usage and security, and one for Office 365 mail transport actions such as DLP rule hits. We've also improved the way we report on Office 365 license usage, suppressing expired trial licenses and handling the new workloads (including Customer Lockbox and Delve Analytics) that Microsoft has recently added to the service.
In the "reducing MTTR" category, we now integrate with SNMP-based monitoring solutions—whenever we detect that a monitored parameter has gone into or out of the exception range, we can fire a trap to the destination of your choice. This makes it easy to tie our powerful application-aware logic to your existing Microsoft SCOM, HP OpenView, or other SNMP-aware components. In Mailscape, we also added monitoring for disk performance counters and the ability to set monitoring exclusions for individual Exchange databases.
Finally, we've added full support for Exchange 2016 and Skype for Business 2016. (We haven't yet tested with the brand-new Skype Cloud Connector so if you're using that and want to help us test, please send me an email.) Oh, and one more thing (that I'm ridiculously excited about): we've completely rewritten our installer using the industry-standard InstallShield engine. The new installer is nearly twice as fast as the old one, automates many of the formerly-manual installation steps, provides a clean uninstall experience, and is better-looking to boot. You can try it out when you upgrade or do a trial install. We're pretty proud of it.
What's coming up
While I'm not ready to spill all the beans on our plans for future releases, you can assume that we'll prioritize future work according to the four principles above. Our development team has already started work on porting more reports to the Insights engine, and we have a long list of feature enhancements for various aspects of our on-premises, cloud, and remote probe monitoring to work through.
For future releases, we're making another significant change—in addition to our regular quarterly release cadence, we're going to be adding a new maintenance release to our schedule. Maintenance releases, like Exchange roll-ups of old, only contain defect fixes, not new features. Our goal is to have a major release about every 13 weeks, with a maintenance release about halfway between quarterly releases. This gives our customers a predictable schedule for defect fixes while cutting down the time required to ship fixes. In addition, we still retain the flexibility to issue hotfixes when we find a critical issue.
Call to action To get the new release, just drop an email to support@enowsoftware.com. If you currently have a support agreement with us, we'll send you everything you need to upgrade right away. If you have a previous version of one of our products but no maintenance, they'll help you get back into support so you can upgrade. If you're not yet a customer, drop by our free trial page to get started.