Microsoft Ignite 2020 Recap
Microsoft's virtual Ignite conference was held this week and did a pretty good job of maintaining the hype and excitement of a real in-person event. Gone were the opportunities to talk with colleagues in-between sessions or in the hallways, but I think Microsoft made the most of this two-day virtual event and made it easy for attendees to view the pre-recorded content they wanted to see on their own schedules. This content is still available in the Ignite 2020 Virtual Hub.
Microsoft has traditionally used Ignite to make major product announcements and this year's event was no exception. Greg Taylor, Director of Product Marketing for Exchange Server and Exchange Online, announced that there will be new versions of Exchange Server, SharePoint Server, and Skype for Business Server coming in the second half of 2021. These new versions will be subscription-based, as opposed to organizations buying perpetual licenses. This will be a shift for on-premises organizations from capital expenditures (CapEx) to operating expenditures (OpEx).
The "working title" of these new servers is "Server vNext", but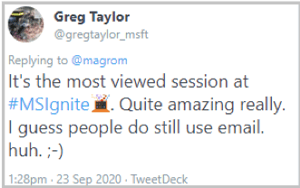 the real names will be announced closer to release. I expect Microsoft will drop the year designation from the name, since they are moving to an "evergreen" model like Microsoft 365 services. I also suspect that since this version will always be current, this will be the last release of Exchange Server for on-premises.
Other highlights of this Exchange Server vNext announcement include: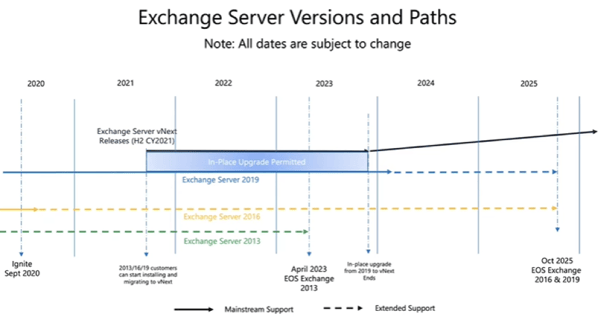 On-premises customers should expect Exchange Server vNext to focus on reliability over new features since most new features will rely on cloud services to function.
There is no new news yet about removing the last Exchange Server. Current hybrid customers should continue to use Exchange 2016 for hybrid recipient management. Long-term hybrid customers should start working on Exchange Server 2019 deployment plans.
The bottom line is, if you're going to be staying on-premises long term – start planning and installing Exchange Server 2019 today.
In other Exchange news:
There was a lot of Outlook news around improvements in Outlook for Windows, Mac, and mobile. Highlights include:
You can learn more about these updates for Exchange and Outlook from the following Microsoft Ignite 2020 URLs:
Also, be sure to pick up your wallpaper swag from https://techcommunity.microsoft.com/t5/exchange-team-blog/exchange-news-and-announcements-microsoft-ignite-2020-edition/ba-p/1662224
---
Monitor Exchange with ENow
Watch all aspects of your Exchange environment from a single pane of glass: client access, mailbox, and Edge servers; DAGs and databases; network, DNS, and Active Directory connectivity; Outlook, ActiveSync, and EWS client access.