Microsoft Ignite 2020 Recap
Microsoft's virtual Ignite conference was held this week and did a pretty good job of maintaining the hype and excitement of a real in-person event. Gone were the opportunities to talk with colleagues in-between sessions or in the hallways, but I think Microsoft made the most of this two-day virtual event and made it easy for attendees to view the pre-recorded content they wanted to see on their own schedules. This content is still available in the Ignite 2020 Virtual Hub.
Microsoft has traditionally used Ignite to make major product announcements and this year's event was no exception. Greg Taylor, Director of Product Marketing for Exchange Server and Exchange Online, announced that there will be new versions of Exchange Server, SharePoint Server, and Skype for Business Server coming in the second half of 2021. These new versions will be subscription-based, as opposed to organizations buying perpetual licenses. This will be a shift for on-premises organizations from capital expenditures (CapEx) to operating expenditures (OpEx).
The "working title" of these new servers is "Server vNext", but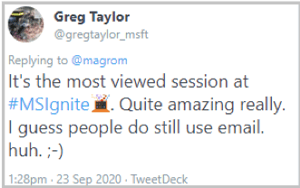 the real names will be announced closer to release. I expect Microsoft will drop the year designation from the name, since they are moving to an "evergreen" model like Microsoft 365 services. I also suspect that since this version will always be current, this will be the last release of Exchange Server for on-premises.
Other highlights of this Exchange Server vNext announcement include:
Exchange Server vNext will support in-place upgrades from Exchange Server 2019, just like a CU. This will make future upgrades easier than ever.
Microsoft is committed to supporting Exchange Server vNext for at least two years after release. As Perry Clarke told us years ago, Microsoft will continue to release and support Exchange Server as long as there is customer demand for it. With a subscription model, Microsoft will have better optics on that demand.
Exchange Server vNext will support coexistence with Exchange Servers 2013/2016/2019. This is one more version than is currently supported.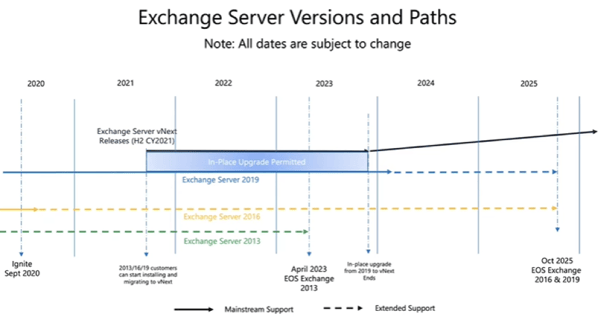 On-premises customers should expect Exchange Server vNext to focus on reliability over new features since most new features will rely on cloud services to function.
There is no new news yet about removing the last Exchange Server. Current hybrid customers should continue to use Exchange 2016 for hybrid recipient management. Long-term hybrid customers should start working on Exchange Server 2019 deployment plans.
The bottom line is, if you're going to be staying on-premises long term – start planning and installing Exchange Server 2019 today.
In other Exchange news:
The Exchange Server 2019 Capacity Calculator is now available for download for all customers. Previously, it was only available in the Exchange Server 2019 ISO for Volume License customers.
The Hybrid Configuration Wizard (HCW) will soon support connecting a single Exchange on-premises organization to up to 5 different cloud tenants for Exchange 2016/2019 customers.
The Exchange Admin Center is nearing completion, with improved personalization, dashboards, and actionable insights. Check it out at https://admin.exchange.microsoft.com.
General availability of certificate-based authentication for scripting using the Exchange Online V2 module. See https://aka.ms/exops-apponly for details.
A preview has started for Linux and PowerShell Core support for the EXO V2 module.
Plus Addressing is now available in Exchange Online. This allows users to dynamically create single-purpose disposable email addresses (for example, when signing up for a new account). Users can write Inbox rules to handle these emails and can tell if the email address is being used by other senders. Admins need to enable Plus Addressing in their tenant with the

Set-OrganizationConfig -AllowPlusAddressInRecipients $true

Tenant-to-tenant mailbox migrations is now in public preview. It's PowerShell-based and requires an Azure Key Vault subscription in the target tenant. View the scripts on GitHub.
There was a lot of Outlook news around improvements in Outlook for Windows, Mac, and mobile. Highlights include:
All new Outlook for Mac based on Microsoft sync technology was announced.
All new richer Outlook on mobile browser experience.
Outlook will soon automatically remove attendees from meetings if the mailbox is deleted.
New Cortana voice controls and AI assistance for Outlook mobile.
A new Outlook Signature API allows third-party integrators to create automated signature solutions for customers. See Code Two's session and demo here.
Improvements in Microsoft Search in Outlook bring a more consistent experience and better performance.
Learn more about the updates for Exchange and Outlook.
Also, be sure to pick up your wallpaper swag.
---
Monitor Exchange with ENow
Watch all aspects of your Exchange environment from a single pane of glass: client access, mailbox, and Edge servers; DAGs and databases; network, DNS, and Active Directory connectivity; Outlook, ActiveSync, and EWS client access.