This blogpost talks about the upcoming, soon to be released (maybe if you read this blog it may already have been released) features for Skype for Business, specifically about Skype for Business Online and Hybrid deployments with users hosted in online. I will give my perspective to all the great work that Microsoft is doing.
Skype for Business Preview
The Preview program provides you early access to new Skype for Business features. It enables your organization to get a sneak peek at what's coming and to test out the new features in your own environment and give feedback before Microsoft releases to the general public!
You can apply for the following Preview Features at https://www.skypepreview.com/
Skype Meeting Broadcast
PSTN Conferencing (U.S. Only)
PSTN Conferencing (International)
Cloud PBX with PSTN Calling (U.S. Only)
Cloud PBX with On-premises PSTN Connectivity
Skype for Business Android Preview
Skype Meeting Broadcast
This is a great new feature that will be welcomed by so many people and organizations, it does fill a gap Skype for Business currently has limited capabilities, by default the maximum meeting size in Skype for Business is 250 which is still a very interesting number considering most meetings just have 2 to 5 participants. There is however an option available for On-Premise deployments to scale up to 1.000 participants but that requires dedicated hardware just for that one meeting which does not makes good sense considering the high price you pay for that one feature. The Skype Meeting Broadcast scales up to 10.000 participants easily.
Skype Meeting Broadcast leverages the compute power of the cloud to deliver those large meetings which are typically one directional and have more a Broadcast type of feel. While it is not designed for users to participate in the meeting like a normal Skype for Business meeting there are ways to bring interaction to this new meeting type by using a Yammer feed (Attendee dialog) and/or a Bing Pulse feed (Polls and sentiment tracking). All attendees will join this meeting by using just a web browser and can have DVR style of controls to rewind the meeting (or start from the beginning) if that is enabled by the organizer.
What is really nice is that Skype for Business Server can also take advantage of the Skype Meeting Broadcast features when the Skype for Business Server is deployed in Hybrid mode with Skype for Business Online.
Enabling this Service is very easy and everyone can schedule those Broadcast meetings by using the Broadcast Scheduling portal. While all users would be able to schedule these types of meetings it does require the proper training before you can actually use this service like you want. While the Presenters use their Skype for Business client it has a different way of actually doing the Broadcast meeting, you have to select Presentation and/or video sources before you can start the Broadcast, one you start the Broadcast it will be live and participants will be consuming the stream from the cloud. Once you finish the Broadcast it can be posted to your video portal.

PSTN Conferencing (U.S. Only) & PSTN Conferencing (International)
While Microsoft originally only had this feature available in US only now there are also some international countries where you can test this feature. For now, the feature is available in US, UK, Germany, France, Netherlands, Sweden, Switzerland, Italy, Denmark, Spain, Belgium, Canada and Austria.
This feature enables any phone to be able to dial into the Skype for Business meeting with audio. A phone number and conference ID will be added to all meetings that are initiated by the users that are licensed for this feature; exactly like it works in Skype for Business Server on premise.
It is really easy to use for users and should not require any additional training as this naturally merges with your current way of initiating meetings. Additionally, there are the Dial-Out and Call Me features where Dial-Out can be used to dial out to a regular phone number to join it to meeting, the Call Me feature is used when a user wants to join the meeting by phone and selects or enters his phone number, then the Service will dial out to that number.
This feature only works for users homed in online, if you have users on premise then they will need to leverage the Dial-In conferencing infrastructure on premise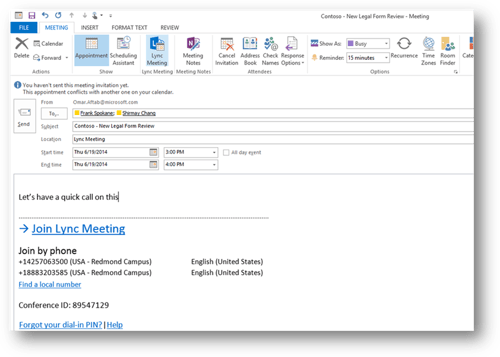 Cloud PBX with PSTN Calling (U.S. Only)
These features are currently only available in US, more countries will follow soon, there is no real timeline available when other countries will be enabled for Cloud PBX and PSTN Calling.
This is a Service by Microsoft, that means that Microsoft delivers you full PSTN calling and the actual phone numbers, with that respect they are essentially turning into a real Telecommunications Company.
While this feature can easily be turned on for online users it should be said that one should take precaution here. It is not because you can just enable these capabilities that it will work the way you want, keep in mind that this is still only basic call control and allows users to initiate and receive PSTN calls it does not yet have the rich feature set like the Skype for Business Sever. Depending on the end user requirements for PBX type of features this may or may not be a good solution for them. But the Cloud PBX will not be able replace your PBX just yet.
More Importantly when these capabilities fit the needs of some or all of your users, enabling the feature does not necessarily guarantee excellent user experience, keep in mind in order to enable Enterprise Voice on premise requires really a lot of optimization on the networking side, so if you forget about this then there might be cases that audio quality will suffer dramatically. Microsoft will have options that enable you to enhance the quality over the network by using Express Route (MPLS connection to the cloud) so that all real time traffic will be prioritized over all the other traffic but still there is far more you need to do to optimize the media streams because only getting Express Route MPLS connection to the cloud) does not solve your quality issues just by enabling it, you really need to do as much effort on this as if you are running an On-Premise deployment, so be prepared to invest a lot of time in optimize the quality for your Audio/Video sessions.

The capabilities of Cloud PBX will obviously evolve and mature over time, but it might just be a long journey you have to take if you want to move all of the Voice capabilities into the cloud and test, test, test whether all of the components play nice together and you really have the feature set you need.

Cloud PBX with On-premises PSTN Connectivity
This is quite interesting because currently it is not possible to enable PSTN Calling from the Microsoft Cloud in all countries (US only for now) but this On-Premise PSTN Connectivity feature makes it possible to integrate existing telephony infrastructure in the customer network with the Cloud PBX so that it can be leveraged by online users.
Obviously you will need some Skype for Business components running on premise in order to take advantage of this, but the beauty is that you can extend the capabilities for online users to consume local telephony resources that you may already have in place like existing PSTN lines, SIP Trunks or PBXs, this makes it possible to reuse existing numbers and to enable Cloud PBX in countries where plain PSTN Calling for Office 365 is unavailable. It will also enhance the media flows because we will not be required to always connect up to the cloud and avoiding high bandwidth costs to Office 365 for using PSTN Calling in a Cloud solution.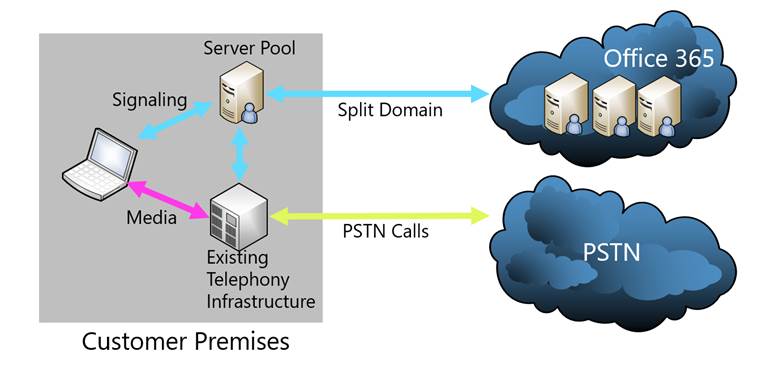 In order to enable these capabilities, you do need to understand how the telephony infrastructure has been put in place. That means that this is far more complex than just enabling a using for Cloud PBX and PSTN Calling in the cloud, this should be considered almost as complex as deploying a Skype for Business deployment on Premise. While you might not require as much hardware resources as a real on premise deployment it would still require a fair amount of work in order to get this deployed and working.

Skype for Business Android Preview
As with the Skype for Business desktop client, we are updating our mobile clients to Skype for Business. These rebranded mobile clients bring not only Skype branding but a simpler, more modern experience.