Are you supporting a new remote workforce? The past several weeks has seen large organizations like Microsoft mobilize 50,000 of their Seattle-based employees to work from home in response to growing health concerns.
We know that Microsoft is not alone in mobilizing their workforce as many Modern Workplace teams are accelerating their digital transformation efforts to follow suit. Seemingly overnight, organizations are quickly switching gears from a hybrid in-office model to working fully remote.
The Current Situation
The current situation is that as millions of new employees start working from home, we have started to see the stress placed on cloud-based collaboration vendors. We know that most organizations have multiple collaboration platforms that employees rely on in order to get work done.
For instance, last week several Cisco collaboration services were unavailable for a period of time. This incident was the third outage during the month of March.
Microsoft also saw an unfortunate service disruption this week. The timing of this outage was particularly painful for users in Europe trying to log into Teams during the morning hours. This outage was the second disruption this year for the Microsoft Teams service as the previous outage was due to an expired certificate.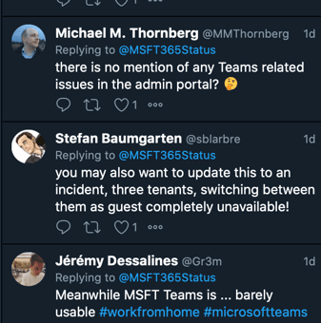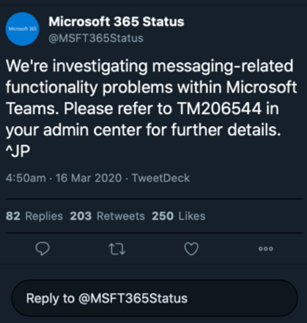 To add insult to injury, the Xbox Live streaming service also experienced an unfortunate outage this week as a larger number of people than usual were home to play online games.
Taking a hasty approach in rolling out collaboration software like Microsoft Teams to help support the increased number of employees that are working from home leave many scratching their heads on how best to use the application.
Life is becoming very hectic for the help desk as thousands of employees start to leverage new applications like Microsoft Teams over home Wi-Fi and run into problems trying to collaborate and join online meetings as experienced in the screenshot below.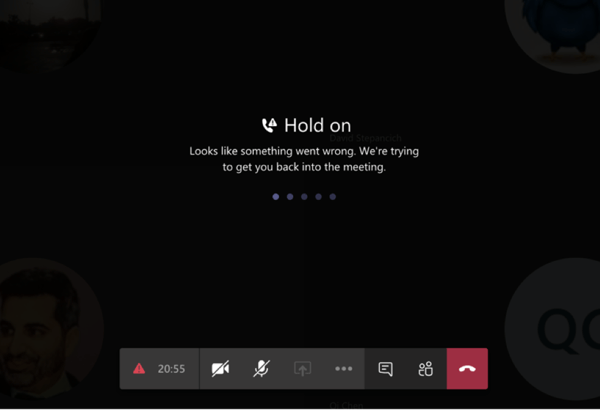 Employees are now starting to experience increased call times into the help desk, and some are waiting over an hour for help. The lengthy call times do make sense as the help desk has to triage many things first to understand if the problem is with:
The user's home Wi-Fi
The user's lack of knowledge around applications
The organization's network
The vendor's service
Organizations are quickly finding out that understanding when and where problems arise within cloud platforms can be deceptively difficult to capture.
The lack of visibility leads to frustrated employees and increasing stress placed on help desk organizations.
Resolution
The resolution to this visibility problem is to understand when services like Microsoft Teams suffer performance problems and to isolate where these issues are happening by geographical region.
This approach helps to understand who is impacted within your organization so communication and expectations can be set. Remember, we also need to know when the employee experience starts to degrade way before a complete outage manifests itself.
ENow End User Experience this Week
ENow customers were able to quickly navigate the Microsoft Teams outage this week by visually understanding where problems were starting to arise.
In the example below, the ENow platform visually caught problems in one of the monitored European locations that started to experience a Microsoft Teams service outage.
Of note here is that the customer's main data center (1) did not first pinpoint problems with the Microsoft Teams service as messages were successfully posting in channels.
Simultaneously, one of the two remote locations that were protected by ENow's end user experience monitoring technology started to alert that Microsoft Teams was having access issues (2) and could not post messages into a channel (3).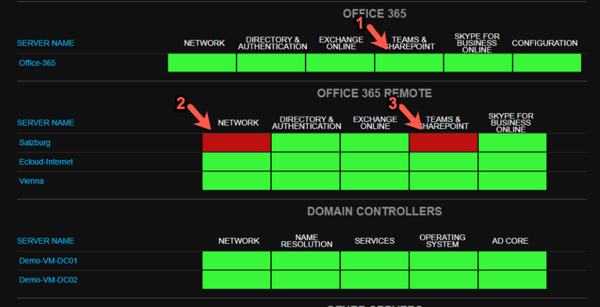 The customer was able to immediately click on the failed indicator and see the exact error message that was preventing a message from being posted in a channel within the remote location. This information empowered the organization to quickly take action and provide accurate communication to the impacted employees.

Understating when problems are due to something within your own network or with Microsoft often takes time to fully flesh out leading to employee frustration.
Organizations have limited visibility into the Office 365 employee experience leaving them relying on lagging indicators such as increased help desk calls, Twitter, or the Service Health Dashboard.
ENow enables you to proactively support employees by monitoring the core components of the Hybrid-Office 365 environment from inside and outside your network.
In addition, we realize organizations utilize multiple collaboration tools like zoom, slack, and WebEx. With such a wide scope of tools to manage, IT has limited visibility into their end user experience. The ENow platform provides visibility into these collaboration tools from a single pain of glass, customizable to your tech stack.
Start your free 14-day trial to gain the same level of visibility into the Office 365 employee experience today.