What is Lync Call Quality Methodology (CQM)?
Call Quality Methodology is a new troubleshooting and service management framework that can better focus efforts to improve enterprise voice services in Lync. When you use CQM, less effort is needed to assure call quality and user satisfaction for enterprise voice services. CQM is explained in more detail in the Lync Server Networking Guide.
CQM breaks down System troubleshooting into three paths or "Roads." These are: the Server Plant Road, which examines the servers and the links between them, the End Points Road, which looks at user devices and media used to carry calls, and the Last Mile Road, which addresses integration of traditional switched telephone network calls.
Each Road is divided into several segments relating to a specific area or topic, and at each segment definitions are made from what is an acceptable quality level, actions are taken to achieve that quality level, and a service management plan is put in place to maintain that quality level before moving on to the next topic.
CQM provides coverage across your network and into your endpoints as well. CQM breaks down call quality into three dimensions:
Server Plant—using the analogy of a power plant, server plant incorporates all Lync server elements that terminate or originate media as described in the diagram above.
Endpoints—collection of quality considerations introduced or caused by the endpoint making or receiving a Lync call.
Last Mile—similar to the PSTN challenge of getting the phone line from the central office to distributed endpoints, last mile looks at how each Lync endpoint is connected to the network.
Server Plant
Server Plant is composed of four elements:
Server Health – Analyzes the Lync Server media servers (AV MCU and mediation) to ensure they are healthy and not contributing to conditions that will cause poor quality including packet loss and jitter. This report includes the scoring of your server performance to inform the prioritization process.
AV MCU <-> Mediation Server – examines streams between these two server roles servicing dial in conferencing users
Mediation Server <-> Gateway – examines streams between the mediation server and their gateway peers servicing dial in conferencing users.
Gateway to PSTN – looking at the final leg from the gateway out to the PSTN. Note QoE has no telemetry data into these sessions and you may need to work with your gateway manufacturer to derive a data driven approach here. This analysis does NOT highlight any of the gateway to PSTN issues.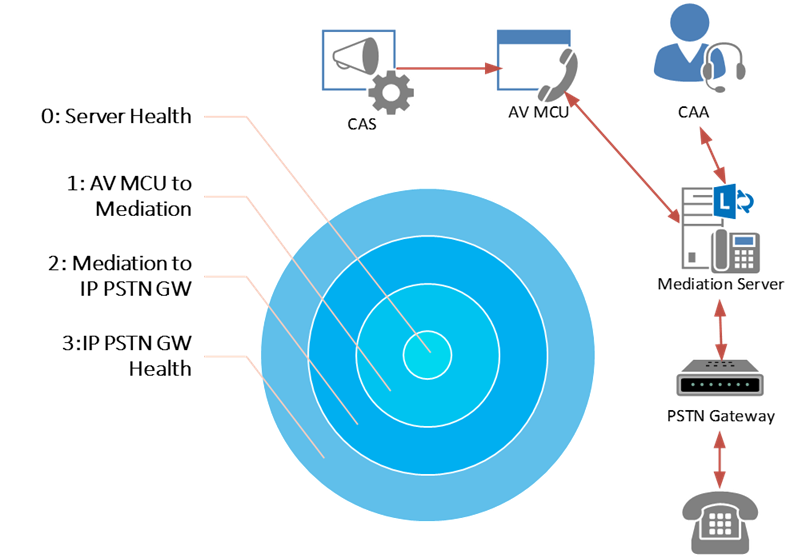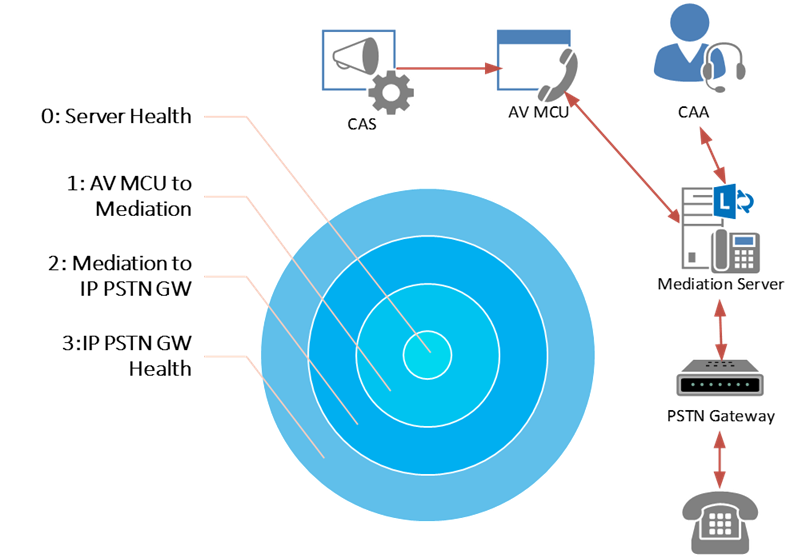 Key Health Indicators to monitor Server Health
Key Health Indicators (KHI) are performance counters with thresholds aimed at revealing user experience issues. Gathering KHI data is usually the first step to implementing the Call Quality Methodology (CQM), which is focused on ensuring a quality audio experience for Lync users.
KHIs are used in addition to standard Lync Monitoring Solutions (e.g. SCOM, Synthetic Transactions, Monitoring Server) not as replacements to those solutions.
Collecting the KHI performance counters and populating the accompanying KHI spreadsheet will help you to produce a scorecard that will determine the server health of a Lync deployment. Once populated, it guides you in repairing the environment and gives additional insight to other stakeholders. Evaluate KHIs on a monthly basis and incorporate them into any deployment's ongoing operational processes.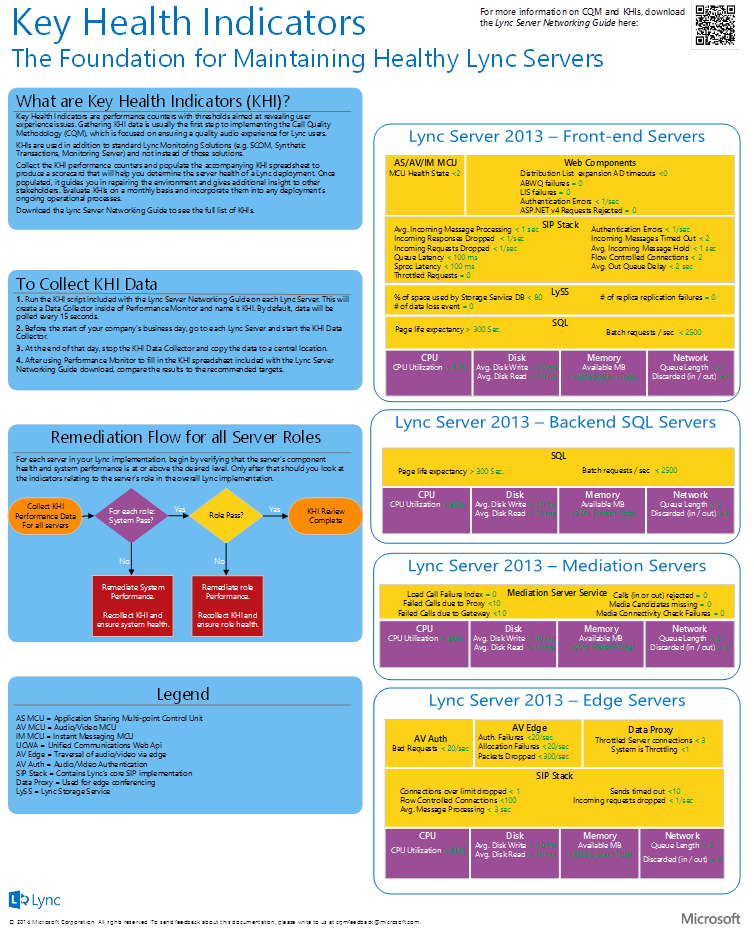 Endpoints
Endpoints are composed of four elements:
Device – this is the IP or USB device used to place or receive a call. Unqualified devices are often the source of call quality problems.
System – the PC used to place or receive a call. A common system problem is glitch generation, which causes quality degradation.
Media Path – In an ideal environment, peer-to-peer calls would always flow directly between the two client endpoints. A common issue is internal firewalls causing internal calls to relay across the internal interface of an edge server. This is non-optimal and can cause quality and capacity issues.
Media Transport – The protocol is used to transport media across the network can impact call quality. UDP is the ideal transport for media, however TCP is often seen which typically results in poor media quality.
This figure shows these elements as well as the servers and streams they correspond to. Prioritize addressing the easy issues first – start by looking at devices and once you have a handle on that, work your way towards the outer ring of media transport.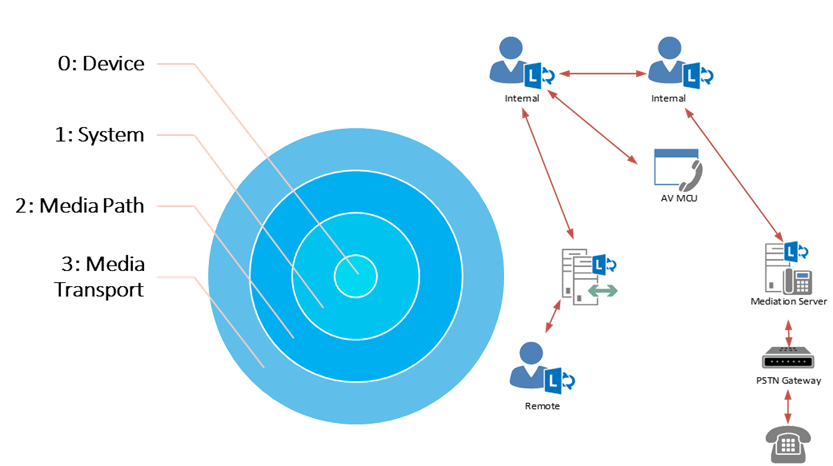 Last Mile
Last mile looks at endpoint connectivity. Consistent with our concept of managed and unmanaged, we only look at internal connections on the managed corporate network. Last mile is composed of two elements:
Wired – both server and client wired connections
Wireless - client wireless connections
This figure shows these elements as well as the servers and streams they correspond to. Wired is the first priority – wired connections should always provide high quality. Depending on the maturity of your wireless deployment, you may want to include wireless in your quality scope as well.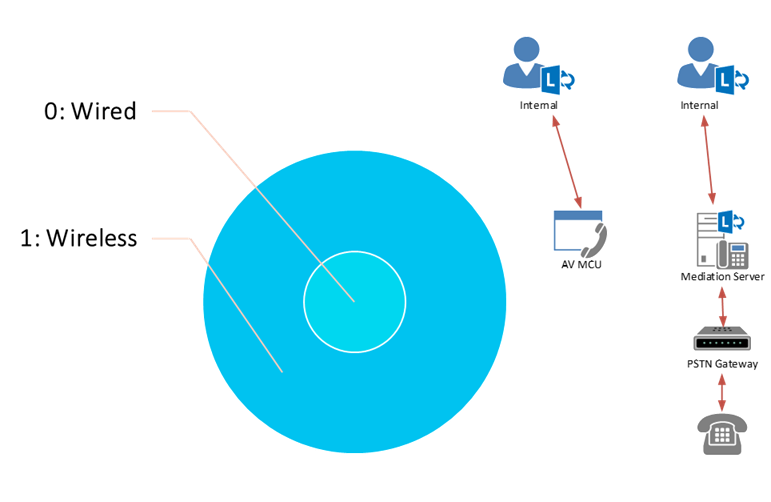 Results of CQM
The Scorecard
The Scorecard view correlates with the ten elements of CQM documented above and shown visually in the CQM poster. These areas are grouped by Red (Server Plant), Blue (Last Mile) and Green (Endpoints). A final area is classified as Unmanaged at the bottom which shows all external streams (media streams originating on the internet and coming into Lync via Edge servers).


Stream Distribution View
The Stream Distribution chart shows which types of audio streams are used most in your environment along with the proportion of those streams that are poor (the red section of each bar).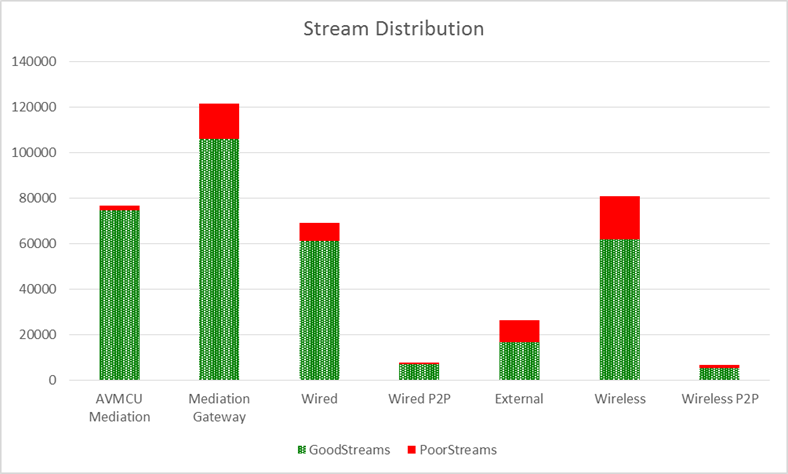 Trending Views
This view again uses the Trending query data but this time to render trends across the designated duration of the report. The views provide a visual of the stream level so you can gauge impact (blue area) as well as the poor streams ration trend (red lines).


Top Issues
In most cases, one thing to do is to look at the TopIssues tab. The TopIssues tab lists the top 10 problem areas for a given element.
| | | | | | |
| --- | --- | --- | --- | --- | --- |
| ReportDate | MS | GWY | AllStreams | PoorStreams | PoorStreamsRatio |
| 3/3/2014 | LYNC3ME01 | 10.98.6.58;trunk=10.98.6.58 | 151 | 45 | 29.8 |
| 3/19/2014 | LYNC3ME01 | 10.98.6.58;trunk=10.98.6.58 | 254 | 58 | 22.8 |
| 3/19/2014 | LYNC3ME02 | 10.98.6.58;trunk=10.98.6.58 | 318 | 66 | 20.8 |
| 3/26/2014 | LYNC3ME01 | 10.98.6.58;trunk=10.98.6.58 | 596 | 121 | 20.3 |
| 3/3/2014 | LYNC3ME02 | 10.98.6.58;trunk=10.98.6.58 | 217 | 42 | 19.4 |
| 4/2/2014 | LYNC3ME01 | 10.98.6.58;trunk=10.98.6.58 | 939 | 173 | 18.4 |
| 4/8/2014 | LYNC3ME01 | 10.98.6.58;trunk=10.98.6.58 | 984 | 179 | 18.2 |
| 3/26/2014 | LYNC3ME02 | 10.98.6.58;trunk=10.98.6.58 | 665 | 120 | 18 |
| 4/8/2014 | LYNC3ME02 | 10.98.6.58;trunk=10.98.6.58 | 1144 | 204 | 17.8 |
| 4/1/2014 | LYNC3ME01 | 10.98.6.57;trunk=10.98.6.57 | 2298 | 391 | 17 |
References
Network Planning, Monitoring, and Troubleshooting with Lync Server
http://www.microsoft.com/en-us/download/details.aspx?id=39084
Lync Call Quality Methodology in Lync Server 2013
http://technet.microsoft.com/en-us/library/dn593600.aspx
Key Health Indicators in Lync Server 2013
http://technet.microsoft.com/en-us/library/dn593599.aspx
Key Health Indicators: The Foundation for Maintaining Healthy Lync Servers
http://www.microsoft.com/en-us/download/details.aspx?id=41697
Lync Call Quality Methodology poster
http://www.microsoft.com/en-us/download/details.aspx?id=41698
Call Quality Methodology scorecard for Lync Server
http://blogs.office.com/2014/07/01/call-quality-methodology-scorecard-for-lync-server/
TechEd North America 2014 Session
You Sound Marvelous: An Introduction to the Lync Call Quality Methodology
Lync Conference sessions
You Sound Marvelous Part 1 – An introduction to the Lync Call Quality Methodology
You Sound Marvelous Part 2 – A deep dive into the Lync Call Quality Methodology SQL Queries and Data