Synchronize your Global Address List with contactSync
GET A DEMO THAT'S CUSTOMIZED TO YOUR SPECIFIC SYNCHRONIZING NEEDS

PURPOSE OF CONTACTSYNC
contactSync synchronizes the Global Address List (GAL) into users' mailboxes, which are in the same environment.
WIth contactSync, mail-enabled objects of an on-premises Active Directory can be synchronized into Exchange mailboxes of the same Exchange environment and mail-enabled objects of a Microsoft Office 365 tenant can be synchronized into Exchange Online mailboxes of the same Microsoft 365 tenant. Furthermore, ContactSync synchronizes the contacts into a subfolder within the user's mailbox contacts.
contactSync can also synchronize contacts of a modern Public Folder into users' mailboxes, which are in the same Exchange environment. It works within all Microsoft Exchange scenarios.
WORKS WITHIN ALL MICROSOFT EXCHANGE SCENARIOS
SUPPORTED EXCHANGE VERSIONS
Exchange 2010* SP1 and later

Exchange 2013 and later

Exchange 2016 and later

Exchange 2019 and later

Microsoft Office 365 Exchange Online
*Microsoft stopped supporting Exchange 2010 on the 13th October 2020. Microsoft will be stopping support for Windows Server 2012 and Windows Server 2012 R2 on the 10th October 2023.


Easily configurable policies can be setup and ready to run in under one hour.
For on-premises Exchange environments, connect directly to Active Directory using LDAP over SSL.
For Exchange Online environments, There are two available methods to establish a secure connection:
Exchange Online certificate-based
authentication via App registration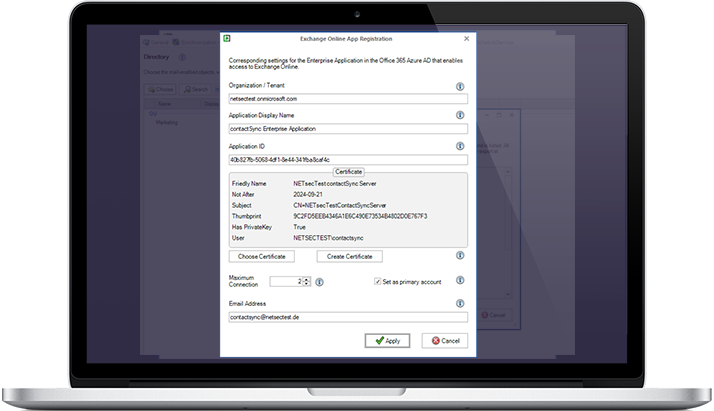 Exchange Online authentication via Service Account using
Modern Authentication OAuth2 for Exchange Web Services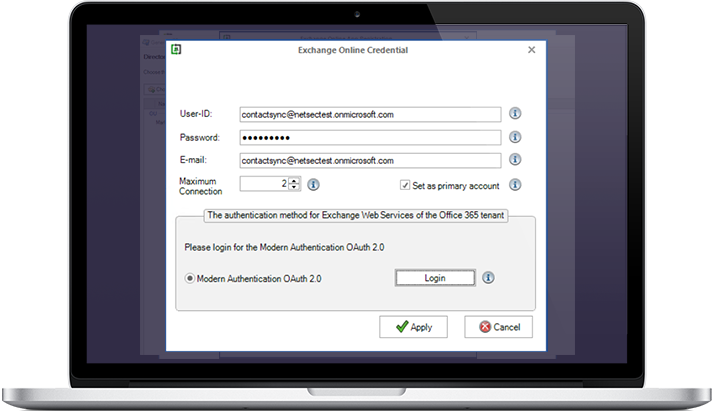 AUTOMATE YOUR SYNC SCHEDULE
contactSync can be scheduled to run policies automatically, on a schedule of your choice. Synchronization policies can be scheduled to run on a weekly or monthly basis. You can also select the specific days of the week, or month it will run. A start time and frequency can also be configured (as often as every 15 minutes or as little as once a day).
Ready to Get Started with ENow?
Schedule a demo to optimize the service delivery of mission critical Microsoft collaboration platforms!