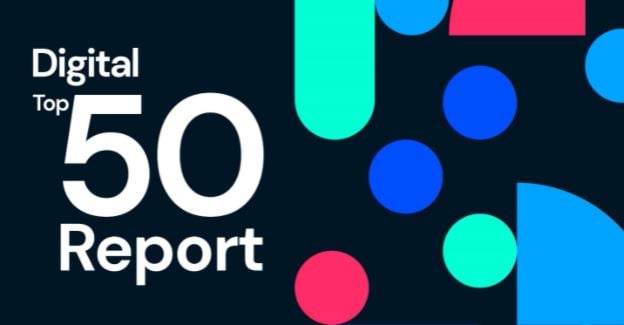 Irvine, CA (July 15, 2021) - - ENow Software, the leader in Microsoft monitoring and management technologies, has ranked 10th in Fifty Five and Five's annual Top 50 Microsoft Partners report for the 8th consecutive year. ENow prides itself on demonstrating value in all facets, including maintaining long-standing partnerships with industry MVPs whose input and innovation continue to help shape ENow solutions and its marketing and technical content.
Each year Fifty Five and Five ranks the digital marketing efforts of Microsoft Partners and publishes an extensive report that celebrates the best marketing in the Microsoft Partner Network (MPN). As the only report of its kind, this year's Top 50 Microsoft Partners Report analyzed and ranked over 250,000 Microsoft Partners based on their blogging output, SEO strategy, website quality and social media engagement.
Fifty Five and Five produced the first 'Microsoft Partner' marketing report back in 2014. That, and subsequent editions, were paper reports that we created and distributed at the annual Microsoft Inspire Partner Conference. In 2021, Microsoft Partner Top 50 was launched in a brand-new digital form.
In previous annual reports, Gavriella Schuster, former Corporate Vice-President of the One Commercial Partner Organization at Microsoft, has written the foreword to the report. Gavriella cites it as a great resource for partners looking for examples, case studies and marketing best practices from their peers, "By comparing websites, blogs and social media practices, partners can see how their marketing efforts compare to benchmarks set by the best in the Microsoft Partner Network; how companies like theirs are succeeding and making the most of inbound marketing practices."
About ENow Software
ENow optimizes the service delivery of mission critical Microsoft collaboration platforms. Our digital experience monitoring and reporting for Active Directory, Microsoft Exchange, and Office 365 transforms the way IT supports these complex services which enable organizations to improve service delivery, increase workplace productivity, and lower total cost of ownership. As a Microsoft Gold Partner, ENow has been a leader in Microsoft monitoring and management technologies since 2004. ENow software manages over 550 million employees worldwide and its technologies monitor over 22 billion transactions a week. For more information, visit www.ENowSoftware.com.
About Fifty Five and Five
Fifty Five and five helps technology companies grow their businesses, drive brand awareness and achieve their marketing goals. Founded in 2014, Fifty Five and Five has long had a special relationship with Microsoft and the Microsoft Partner Network. Working with companies across the globe, of all sizes, they have helped to raise the bar of partner marketing. Using a mix of digital marketing services and skills, they help companies with content, SEO, Paid Media, Go To Market campaigns and more. For more information, visit www.fiftyfiveandfive.com.