ENow, a leader in Exchange and Office 365 monitoring and analytics solutions, was recognized as an industry thought leader. In a study entitled Top 50 Inbound Marketing Excellence Report, published by Fifty Five and Five, ENow was ranked 12th. Throughout its 11 years of operation, ENow Software has established an unprecedented track record of producing high quality marketing methods. With a 15% increase in traffic this year alone, ENow Software's consistent trends in increasing levels of customer engagement, acquisition, and retention have proven to be effective.
With a focus on companies who create apps and tools that extend and enhance SharePoint and Office 365, hundreds of websites, blogs and social feeds of vendors within the Microsoft partner network were thoroughly analyzed and ranked. ENow Software's array of innovative, meaningful and useful content presents a remarkable exemplification of inbound marketing strategy that effectively builds brand awareness while simultaneously establishing themselves as industry thought-leaders. Over time, the "ENow Solutions Engine (ESE)" has become one of the industry's most reliable outlet for readers to gain invaluable insight written by top industry influencers like: Paul Robichaux and Michael Van Horenbeeck. In addition to thought-pieces, ENow Software frequently sponsors and hosts webinars featuring a variety of Office 365 MVPs.
Topics in the past have included: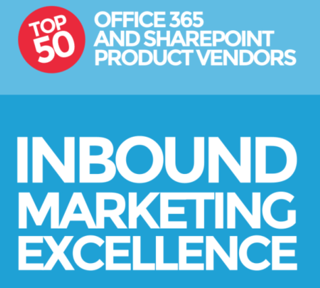 Identity Management Over the Horizon: What's New and What's Next - By Paul Robichaux
Deploy Exchange 2016 On-prem and Hybrid – By Michael Van Horenbeeck
Lync & Skype Connectivity Deep Dive - By Johan Delimon
Chris Wright, the founder of Fifty Five and Five praised ENow Software's efforts:
"This report is a testament to the hard work of the team at ENow Software and they should be duly proud of their achievements."
Inbound marketing is more important than ever for attracting B2B customers, and ENow Software has been prestigiously selected as top twelve of fifty. The independent report includes detailed comment on the efforts of all partners' social media presence, blog posts and websites in order to ascertain how well they are attracting audiences to their content.
Fifty Five and Five applauds and recognizes of the efforts of ENow Software's marketing team, who has put in an amazing effort to achieve this ranking. Fifty Five and Five analysis highlighted particularly strong areas such as their Twitter handle, which has doubled the amount of impressions from 11,000 in 2014 to 21,000 in 2015. Fifty Five and Five also drew emphasis on ENow Software's strong Youtube performance, which skyrocketed from merely 3,000 views to over 10,000 views in under a year.
Jay Gundotra, CEO of ENow Software stated "It's an honor to be featured on Fifty Five's list. We know ENow is doing our job right when we're producing content that can be valuable to everyone in the Exchange/Office community, regardless if they are a customer or not."
Microsoft back inbound marketing
Microsoft are increasingly encouraging inbound marketing among the network of independent product vendors, application developers and providers of add-ins for SharePoint and Office 365. The report mirrors this and features interviews and insights from industry experts including:
It's an honor to be featured on Fifty Five's list. We know ENow is doing our job right when we're producing content that can be valuable to everyone in the Exchange/Office community, regardless if they are a customer or not."
Foreword from Dharmesh Shah, founder and CTO of HubSpot
Xabier Ormazabal, CMO at Dropbox
Christian Buckley, MVP
Russ Mann and Nintex
Jean-Luc Brisebois, CMO at Share-Gate
Steve Rayson, Director at Buzzsumo


Added value
Download your free copy of the report at http://www.fiftyfiveandfive.com/inbound-marketing-excellence. The report shares insights, inspiration and innovative practices and tips for any marketer working within the Microsoft partner network. The focus of the report is on partners who build add-ins, tools and applications to enhance SharePoint and Office 365, yet service providers, vendors and partners who build tools for other Microsoft applications will find a wealth of relevant information included.
About us
ENow is a Microsoft Silver Independent Software Vendor focused on helping organizations implement the latest Microsoft technologies and building software tools that simplify the job of IT administrators. Our innovative systems management software provides robust monitoring and reporting features for all key components of your Microsoft infrastructure, including Exchange, Active Directory, SharePoint and Lync —all delivered in our award winning personalized dashboards. We have been in a formal partnership with Microsoft for the past 6 years, including being Gold Certified for 4 years.
The ENow corporate office is located in the Southern California city of Aliso Viejo.


About Fifty Five and Five
Based in London, UK, Fifty Five and Five is a digital marketing agency born out of a recognition that Microsoft partners face a unique set of challenges when it comes to B2B marketing. They help Microsoft partners communicate more effectively, reach new audiences and drive leads.
Contact information:
Chris Wright, Founder
http://www.fiftyfiveandfive.com
201 Borough High Street, London, SE1 1JA
0203 805 7791
chris.wright(at)fiftyfiveandfive(dot)com