"The king is dead; long live the king!" is a traditional proclamation made following the ascension of a new monarch to the throne in various countries (both real and fictional). The recent announcement at Microsoft Ignite that Microsoft Teams is taking over for Skype brings this phase to mind—is Skype dead? Let's dig into what Microsoft has announced and is currently doing to see if we can figure out what the future holds.
Teams
Outlook's combination of email, contact management, and calendaring mean that most of us spend much of our day working in, or with, the Outlook app and the data it handles. Skype, OneDrive, and the Office desktop apps are all important, sure, but different tasks and job functions dictate which of those apps you use — we all use Outlook. If you wanted to sum up Microsoft's basic philosophy with Teams, it seems to me that they're trying to replicate the gravitational pull of Outlook with the Teams client: in Microsoft's vision, Teams will become the place where an increasing number of people will spend the majority of their workday.
If you haven't seen the Teams client in action, it's pretty slick — it combines threaded persistent conversations, file storage, and audio/video meetings into a single unified interface. (This YouTube video gives you a good flavor of what it's like to work with the client.) The ability to invite someone into an existing Teams "channel" and immediately grant them access to all the chat history and files associated with a project or team is really useful, to the point where once you get used to it, you miss it in other clients.
Skype
Skype for Business, of course, is the latest iteration of the familiar OCS/Lync family of server products. It's widely deployed for on-premises telephony and collaboration, and Skype for Business Online has become increasingly deployed as well—but perhaps not as fast as Microsoft would like, given that some surveys show fewer than 15% of the global Office 365 tenant base actively using Skype in their operations. As a communications system, Skype suffers from two primary limitations:
On-premises, Skype is complex and has lots of integration points. Simple deployments for presence and IM are easy, but as soon as you start adding telephony integration things get much more difficult.

In the cloud, it's been hard for Microsoft to convince companies to abandon their on-premises phone systems (whether based on Skype, Cisco, Avaya, or other vendors) and move to the cloud. This is partly due to the slow introduction of features such as voice mail and voice mail transcription. The existing Skype for Business Online infrastructure is, like Exchange Online, essentially on-prem SfB code running in the service.
That last sentence is especially important. Exchange Online has successfully scaled to the cloud because the Exchange engineering team has done a great deal of difficult work to drive down scale limiters, such as the amount of disk IOPS required for mailbox handling. The Skype team has had a more difficult time eliminating these limiters… and now enter Teams.
What Microsoft Has Announced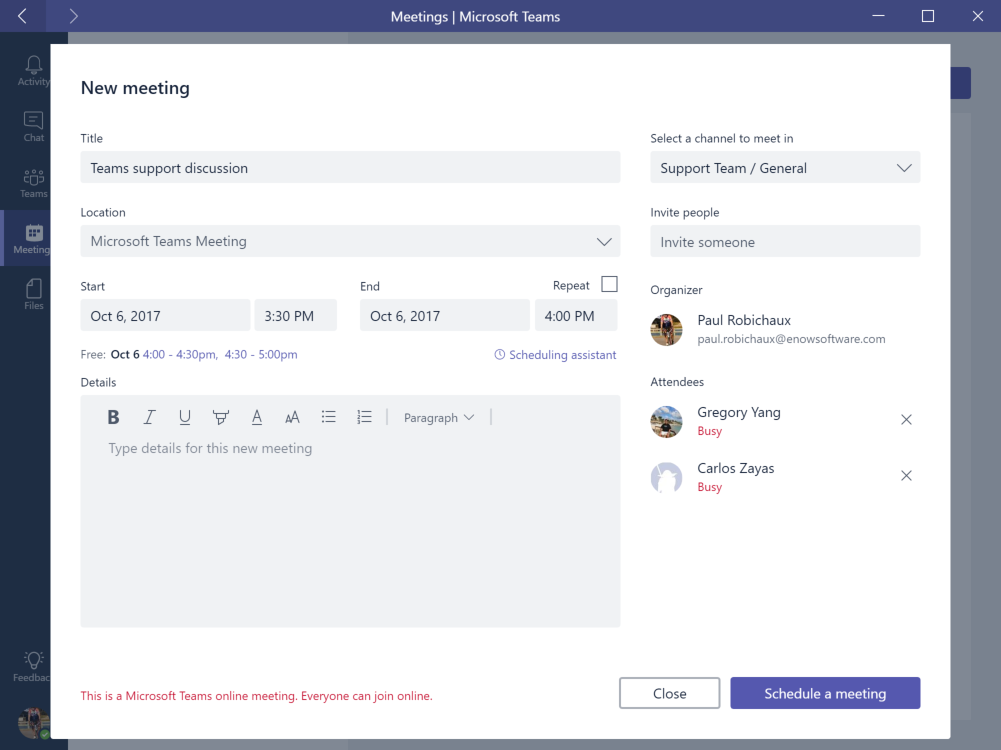 Teams already includes meetings. More precisely, you can schedule meetings that appear in users' Exchange calendars but that provide an audio/video experience within the Teams client itself. Meetings can be tied to Teams channels, too. The overall experience is slick, but there are some missing features, most notably interoperability with Skype meetings. We already live in a world where many end users have to master the Skype for Business, WebEx, GoToMeeting, and Blue Jeans clients for their daily tasks, depending on who they're talking to, and if Microsoft just adds one more brick to that pile they won't be doing any of us a favor.
At Ignite, however, Microsoft made some announcements that show they're taking a much richer approach. Teams will become the primary client for meetings in the Office 365 service, and it will replace Skype for Business as the primary real-time communications tool in Office 365. In an Ignite briefing, Microsoft corporate vice president for Office 365 Ron Markezich said "Microsoft Teams will evolve as the core communications client. We will make Microsoft Teams the hero and primary experience for all voice, video and meetings." That's pretty unequivocal.
To make this happen, Microsoft is adding audio conferencing, inbound and outbound PSTN calling, hold, voicemail, and call transfer, integration with Skype (and other systems through Pexip and other gateway vendors). These are all features offered by Skype on-prem and in the cloud. With these improvements, Lori Wright (the GM who owns Skype and Teams marketing at Microsoft) claims that Teams will be able to deliver some key advantages. She said:
Before a meeting, Teams will surface relevant documents and rich information about the participants to help you prepare.

During the meeting, the conversation can be captured, transcribed, and time-coded, with closed captioning and voice recognition for attributing remarks to specific individuals.

After the meeting, the cloud recording and transcript can be automatically added to the relevant channel, so conversations, documents, notes, and action items can be reviewed, indexed, and searched by the entire team.
All of this is powered by a new cloud-based communications architecture developed just for Teams. That's the real giant news hidden in this announcement: the features announced are useful, sure, but ending the use of Skype for Business on-prem code to power the service means that Microsoft has the opportunity—which it is aggressively using—to optimize everything about the way calling and communications services are built and delivered as part of Office 365.
Interestingly, Microsoft also announced a new on-prem version of Skype, Skype for Business 2019. They didn't release many public details of what would be in this release, but it's clear that they want to keep on-prem customers happy with Skype on-prem while at the same time herding as many of them as possible to the cloud.
What Microsoft Did Not Announce
There are a few key elements missing from Microsoft's announcement. The biggest one: when all this will happen. Microsoft did promise to release a roadmap to customers sometime in October, which is a positive sign. However, not having the roadmap ready by Ignite seems to me to be a misstep—if Microsoft already has a plan for rolling out these changes and deprecating Skype for Business Online, Ignite would have been the best possible time to communicate that plan. If they didn't communicate it then, the implication is that there are still some open issues on their side, which is a bit offputting.
That lack of a clear roadmap means that many of the Microsoft customers I spoke to at Ignite and at the Gartner Symposium the following week are puzzled about what they should do. Right now, the answer is "nothing," because there's nothing you can do except experiment with, and eventually deploy, Teams for use in your organization. Skype for Business Online isn't going away yet, and the new functionality in Teams will be released when Microsoft thinks it's ready. Without a roadmap, essentially all any of us can do is wait to see what happens.
Why You Should Care
Since its launch last year, Teams has been deployed at more than 125,000 customers according to Microsoft. At ENow, we've seen a steady increase in the number of customers that have deployed Teams and who have thus been asking us about monitoring and reporting for Teams. The announcement that Teams is taking over for Skype for Business Online means that the importance of Teams as an Office 365 workload is going to continue to grow. We're committed to supporting our customers who use Teams—we already monitor many of the critical foundational services that Teams relies on (including Azure AD and AD FS authentication, SharePoint Online, and Exchange Online calendaring). We'll be adding more Teams monitoring and reporting features once Microsoft clarifies their roadmap and our customers are better able to tell us how and when they plan to use these new features. At the same time, the fact that we're also getting Skype for Business 2019 means that on-prem customers will continue to be supported (and thus able to take advantage of our Uniscope monitoring tool).
The Future Looks Excellent
Even without a firm timeline in mind, the new features Microsoft is promising for Teams are awesomely slick. The existing Teams client provides an easy way to keep team and project communications in a single (indexed and searchable) place, with good integration with other workloads (notably Exchange Online for mail and calendaring). Making the Teams workspace more capable by adding calling and conferencing, and doing it by using a new cloud-powered system built from scratch for Teams, offers a huge amount of potential and I'm excited to see what Microsoft is able to deliver. Who knows, perhaps one day Teams will even replace public folders…