Right Size License Agreements
How many of your users are underutilizing their costly license?

Microsoft 365 License Optimization is far from straight forward. With E5s, E3s, F1s... It often feels like you need to be a mathematician, lawyer, and an IT Pro one to determine your license needs. After all, the difference between a $20 and $4 a month license change could be knowing if a user scheduled a meeting this month or not!

ENow takes the guess work out of Microsoft 365 license optimization, by pinpointing users who are not leveraging their costly licenses to the fullest. These users could be downgraded to a cheaper license type with no impact to their day to day. In the picture above, we helped a Customer with 14,362 users, pinpoint 28.04% of users who could leverage a cheaper license. The recommended license changes we uncovered, resulted in savings of $2,068,128 annually.

The savings ENow proposes are unique to your organization's license agreement with Microsoft. Thus, showing actual savings as opposed to Microsoft 365 license list cost.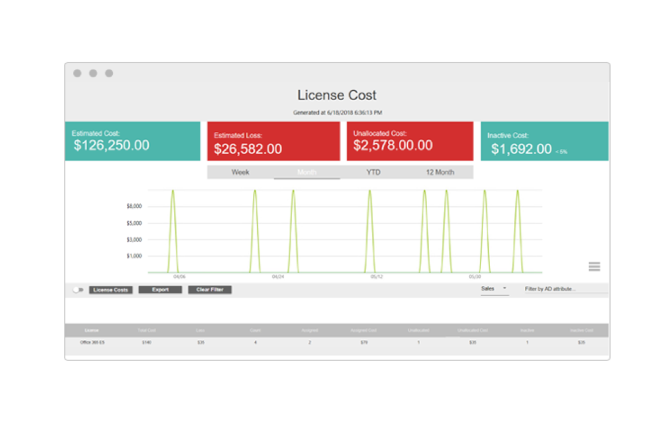 Obtain Key Metrics
Seemingly small errors, may have resulted in an immense amount of license waste.
Gain visibility into license consumption trends. ENow highlights license consumption rate by license type over various day and year to date time frames. The report also includes license count information as it relates to the specific groups and departments.
Track digital transformation efforts by gaining key performance indicators like Microsoft 365 license app (Microsoft Teams, OneDrive, etc) usage that can be distilled down to individual users.
Oftentimes, organizations need to distill license charges down to chargeback various subsidiaries, business units, or departments. ENow easily breakdowns license allocation by group to easily obtain accurate data.