Microsoft is rolling out a new calendar sharing experience in Office 365. The change is intended to make sharing calendars between users easier and more reliable, although there are some unintended consequences for some Office 365 customers.
Today I'll detail how the new calendar-sharing experience looks and functions and address potential confusion and frustrations end users might encounter.
Getting the new feature
As of January 2017, the Office 365 roadmap website shows "Outlook on the web: Share Calendar Availability" as a feature under the "In Development" section. There is limited information available for this new feature on the roadmap site and no link to any additional information. It looks like this:

I checked my Office 365 tenant, and this feature is available, so it is rolling out to customers across Office 365. I have first release turned on for my tenant, but other than that I am just a regular Office 365 customer like you.
By the time you read this, you should be able to follow along in your own Office 365 tenant. If not, the feature should show up soon.
The current/old experience
Sharing calendars from within Outlook via the current method is a less than perfect experience. The current interface is pictured below: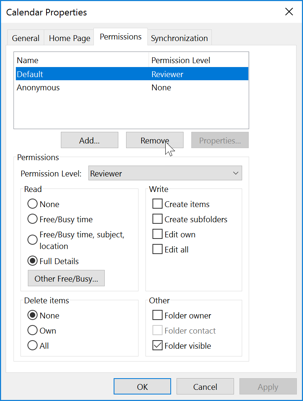 You can also send a sharing request: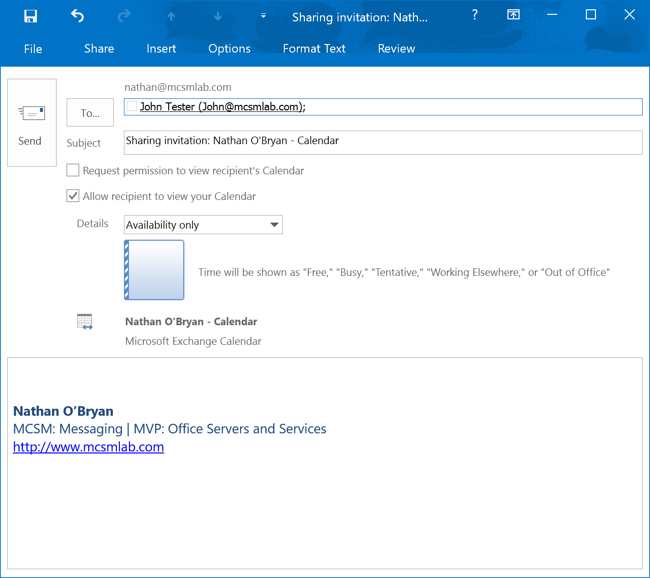 While this interface for calendar delegation has worked for decades, a revamp could provide a more efficient system. Users often find managing calendar sharing permissions to be difficult to understand and manage.
The new calendar sharing interface
The new calendar sharing interface is available for Office 365 customers using Outlook on the web (OWA). This new interface is only available for users who have Office 365 mailboxes in OWA.
Once this feature is fully available via OWA, Microsoft plans to start working on making this feature available in Outlook 2016 for Office 365 customers. Microsoft has no current plans to bring this feature to on-premises Exchange servers. I assume that will happen eventually, but it's not in development now.
The new interface is a simplified version of the sharing controls that already exist in Microsoft Exchange. The "share" button in the OWA calendar opens a menu that looks like this: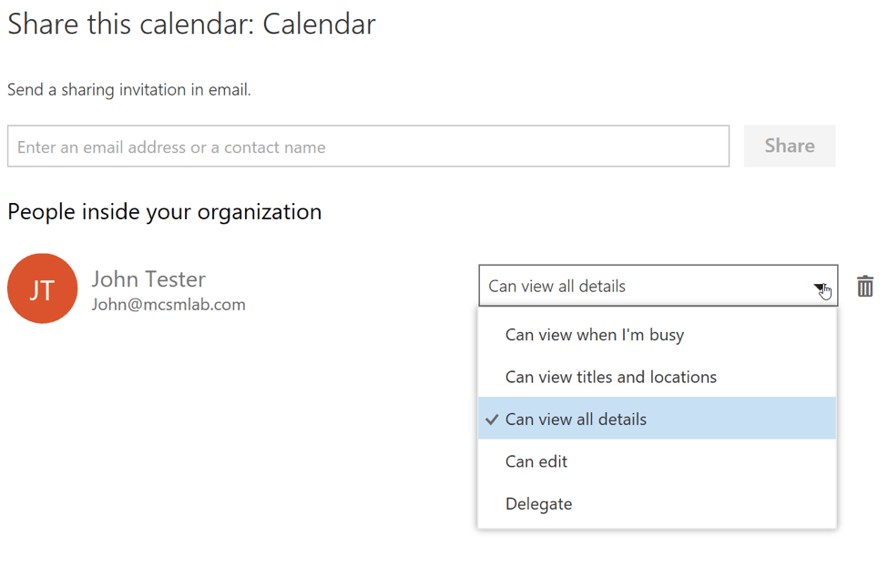 I shared my calendar with "John Tester." John has access to view all details in my calendar. The top four choices can be selected and changed at any time. However, if I give John "Delegate" permissions, I need to completely delete all permissions for that user and recreate them to change them back to lower permissions. It's a bit cumbersome and not a great user experience.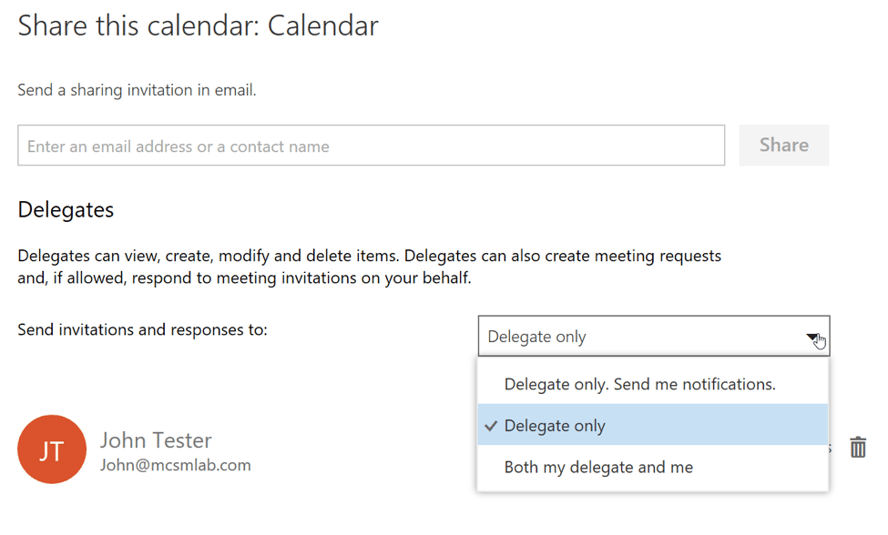 Granting permissions to a user outside your organization depends on if you have federation set up with that external user's organization. Below is a screen shot of sharing permissions I set up with my Hotmail account, which is not federated with my Office 365 tenant.
The downside to a new interface
While end users will find the new calendar sharing interface easier to use, the problem is the interface is limited to OWA in Office 365. It may end up being confusing for users who need to modify calendar sharing permissions from within Outlook. On-premises users will not get this experience in OWA, either.

If your organization has hybrid Exchange set up, only the cloud users will get this experience. The calendar sharing interface is one of many features only available in Exchange Online.
In fact, a quick look at the Office 365 roadmap website shows the following features coming to OWA in Office 365:
Simplified calendar viewing: A quick view of your day or week based on your calendar.
New options menu: The options menu in Exchange Online OWA has additional controls.
Conversation attachment well: A new view at the top of the reading pane that shows all attachments within a single conversation thread.
OneDrive sharing tips: Additional permissions can be chosen when sharing files via OneDrive including "anyone can edit" and "anyone in my organization can edit."
More OneDrive sharing tips: Currently there is no indication in the interface that a modern attachment will be viewable by the recipient. New sharing tips will give a warning when a modern attachment may not be accessible to a recipient.
Sharing calendar availability: A new interface that makes it easier to see potential meeting times for all invitees to a meeting.
Sweep enhancements: The Sweep interface adds the ability to select multiple users by message and perform sweep actions from the drop-down menu.
The Exchange team is always working to improve the OWA user experience. Hopefully these improvements will make their way into both the Outlook fat client and OWA on-premises. Until they do, Exchange administrators need to ensure we're keeping end-users up to date on what features are available in the tools they use.