On April 22, 2021, at ~2:55 pm UTC, Microsoft reported a potential Exchange Online mailflow incident impacting users in North America.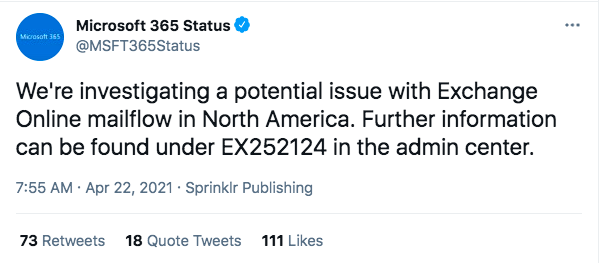 Many Twitter users soon chimed in stating that this "potential" issue was a REAL issue for their organization.


Roughly an hour after the "potential" issue was reported, Microsoft announced they had identified the root cause. In this case, a load balancing configuration issue was the culprit and Microsoft was actively working on resolving the issue.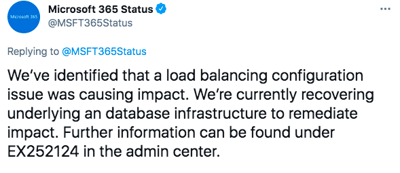 ---
Office 365 Outages: Business Impact
While there are now more modern collaboration tools than ever, email is certainly not dead. When Exchange Online goes down or suffers performance issues many organizations are DISRUPTED.
In this case, end-users ability to send/receive mail was impacted ultimately disrupting end-user productivity
. Perhaps, an employee on your sales team was planning on sending out a proposal that was time-sensitive. This issue then multiplies and suddenly your help desk is overwhelmed with users complaining.
Outage happen. Murphy's law tells us "what can go wrong will go wrong." Given that we know that cloud outages will continue to happen organizations need to take ownership internally and prepare for business continuity.
How will IT be alerted of these issues (proactively or when end-users start to complain)?
What will IT inform end-users?
Are there alternate (temporary) technologies your team can leverage?
On-Demand Webinar: Office 365 Outage Impacts
Preparing for Business Continuity
During this brief webinar, Michael Van Horenbeeck (MVP) and Jay Gundotra (ENow Technical Founder) discussed actionable insights to ensure your organization is prepared for the next outage.
Identify the scope of impact
Properly communicating with end-users and management
Restoring workplace productivity