On April 28, 2020, Microsoft 365 reported a Microsoft Teams outage in the Asia Pacific region at ~ 9am UTC.
Initially Microsoft reported that the outage only affected users' ability to update their presence status. However, roughly two hours later at ~11 pm UTC, Microsoft reported that the outage was also affecting users' ability to send and receive messages in Team.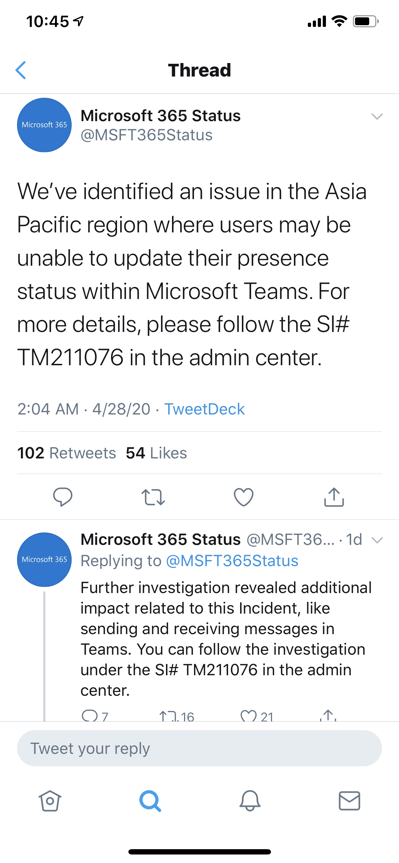 Several users expressed frustration with having to postpone important meetings and having issues with chat being delayed throughout APAC as well as Australia.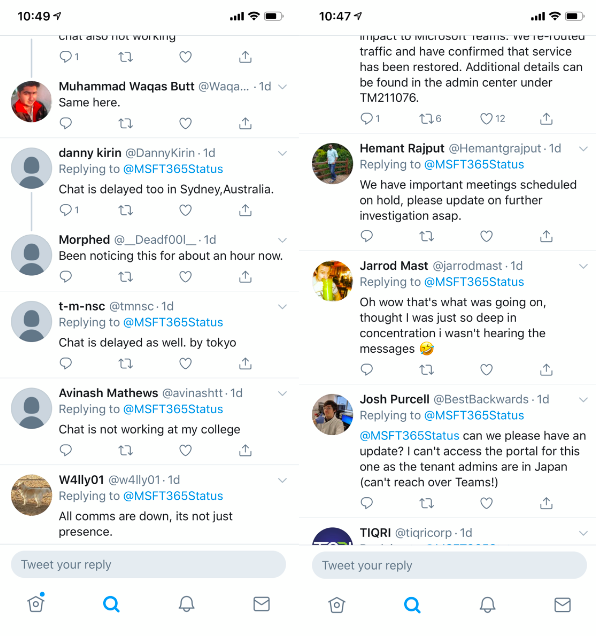 Finally, roughly 10 hours later at ~7:30pm UTC, Microsoft reported that the issue had been caused by throttling measures put in place to manage service availability but the issue had been resolved.
The Importance of Office 365 Monitoring
This is just one of the many outages users have experienced with Office 365 in recent months. With more users than ever working remote, reliance on cloud based services is at an all time high. It is now more important than ever that organizations have some sort of monitoring in place when it comes to Office 365. Without proper monitoring, users and IT Pros are often left in the dark when it comes to issues regarding Office 365 outages with no way of knowing what the root cause is or what is being affected by the outage.
Office 365 Monitoring with ENow
In order to best understand how your organization may be impacted during an outage, you organization needs to have Office 365 monitoring in place. It's critical to be able to identify the specific issues your organization is dealing with when an outage has occurred or is even about to occur. Proper monitoring can simplify dealing with these issues for both IT Pros and end users.
ENow's Office 365 Monitoring and Reporting Solution is designed to identify exactly which services are being affected within your organization as well as the root cause of those issues. This solution allows IT Pros to visually monitor their entire environment in one place. When an outage does occur, IT Pros are able to quickly identify where issues are stemming from and pinpoint not only areas that are being affected, but also the root cause of the issue.
ENow's remote probes allow IT Pros to grasp a full picture of all services and subset services affected by this outage. The end user experience monitoring probes cover a wide range of Office 365 apps and other cloud-based collaboration systems including Zoom, SalesForce, and OneDrive.
Lastly, the ENow dashboard makes it quick and easy to check one place to obtain all of the info IT Pros need to know about the current outage that they would typically obtain through the Service-Health-Dashboard and Twitter.
Tired of being left in the dark during service outages? Try ENow's Office 365 Monitoring solution.