Last week I shared part one of my Microsoft 365 Security Assessment where we took a deep dive into securing things related to Azure Active Directory. If you haven't had a chance to read through it yet, take a few minutes and read it here.
Now that we're all on the same page, lets dive into part two, where we'll cover security settings in the Microsoft 365 Admin Center.
Moving on to the Microsoft 365 Admin Center
Turn ON modern authentication
Modern authentication is what allows you to enforce MFA and other identity based security features. Products that don't use "modern authentication" use what we call "Legacy Authentication" (obviously) or "Basic Authentication". It only uses username and password pairs to authenticate a user. The example shown in
Figure 14: Basic authentication prompt
is using legacy authentication, also known as basic authentication.
Figure 14: Basic authentication prompt
Microsoft is planning to disable legacy authentication from older tenants in the second half of 2021 and newer tenants will have modern authentication as the default, however if your tenant was created before August 1
st
2017, modern authentication was off by default and even if your tenant was created with modern authentication enabled, it doesn't necessarily mean that legacy authentication is switched off.
Because Microsoft is planning to disable legacy authentication altogether sometime in 2021, they are now giving admins easier options for managing what Exchange Online protocols you wish to disable legacy authentication for, giving you the granularity directly in the Microsoft 365 Admin center -
Figure 15: Modern authentication in Microsoft 365 admin center.
Figure 15: Modern authentication in Microsoft 365 admin center
Admins should review the Azure AD Sign-in logs for the tenant to see which users are using legacy authentication and from which client over what protocol. Then, given this information, start restricting legacy authentication to only those users and clients that absolutely require it for the interim, until the client can be updated to support modern authentication (hopefully, before Microsoft disables legacy authentication outright).
Configure your external sharing settings
External sharing allows your users to share content (SharePoint files, sites and OneDrive files) with people from other organizations. External sharing is what makes collaboration possible. Depending on your organization and the industry regulations, or if you have confidential information, you may need to restrict external sharing or switch it off completely.
View the restriction settings under "Settings > Service & add-ins > Sites" shown in Figure 16: External sharing settings
Figure 16: External Sharing
settings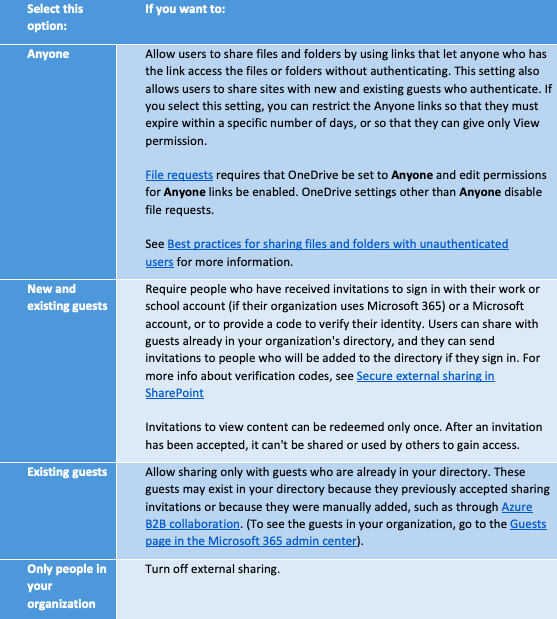 Configure guest access in Teams
Similar to SharePoint and OneDrive, Microsoft Teams can be used for collaboration with external guests, in fact, Microsoft recommends using Teams because it provides a set of collaboration tools in a unified client. Microsoft Teams has a master switch for enabling guest access in Teams and a variety of policies and settings to control what guests can do in a team. The master switch, Allow guest access in Teams, shown in
Figure 17: Guest access in Teams admin center
below needs to be switched on in order to then control what guests can do in teams with policies.
Figure 17: Guest access in Teams admin center
Review your Secure Score
Microsoft Secure Score is a measurement of your organization's security posture, with a higher number indicating more improvement actions taken. It can be found at https://security.microsoft.com/securescore or in the Microsoft 365 security center.
Figure 18: Microsoft Secure Score Dashboard
The improvement actions are security recommendations that are based on the information pertaining only to your tenant and the settings configured (or not configured). Improvement actions are ranked by implementation difficulty, user impact and number of points achievable. Review the improvement actions, create an action plan to address the recommendations and track your Secure score on a regular basis.
Limit the number of Admins (Roles)
This advice may be obvious to many organizations, but the more privileged accounts you have (accounts with admin privileges to services and data), the easier it is for attackers to target your organization and gain access to data.
It goes without saying that you shouldn't assign admin roles to user accounts and in fact I recommend that admin accounts do not get assigned a license in Microsoft 365 unless the role requires an email alias.
Assign the least permissive roles to admins and have less than five global administrators (but more than one for emergencies).
"Roles" in the Microsoft 365 admin center (Figure 19: Roles in Microsoft 365 Admin Center) allows you to export the roles and users assigned these roles to a CSV file. Review the list in the export and try to follow the best practices mentioned above by removing some roles from people that don't need the role and changing the combination of roles assigned to users so they can perform their daily admin function with the least privilege required.
Figure 19: Roles in Microsoft 365 Admin Center
Start the Zero Trust journey
Now, Zero Trust or ZT as I have seen it abbreviated before, is a framework. It's not something you can turn on in an admin center and "poof" – magic, you are more secure. It is a journey that organizations embark on and strive to improve and enhance in an ongoing fashion.
Zero Trust teaches us to "never trust, always verify."
Figure 20: Zero Trust diagram
There are many resources to help you get started with the zero trust journey. Microsoft have a Zero Trust assessment tool - Take the Zero Trust Assessment (microsoft.com) and Microsoft have also just announced the Zero Trust Deployment Center – a repository of information to improve ZT readiness and implementation guidance.
Configure Microsoft Defender for Office 365.
Defender for Office 365 (previously called Office 365 Advanced Threat Protection) helps you secure your organization by offering a comprehensive slate of prevention, detection, investigation and hunting, response and remediation, awareness and training, and secure posture features.
Figure 21: Microsoft Defender for Office 365 components
Microsoft Defender for Office 365 includes:
- Threat protection policies
- Reports to monitor threat protection in real-time
- Threat investigation and response capabilities to help you investigate, understand, simulate and prevent threats
- Time saving automation for response actions
ORCA (Office 365 ATP Recommended Configuration Analyzer) is a PowerShell report to help validate your anti-spam and anti-malware settings against recommendations from Microsoft. The tool compares your settings to the recommended practices in "Recommended settings for EOP and Office 365 ATP security"
Running ORCA is simple. Install the module, start a PowerShell session logged in with an administrator account and run the Get-ORCAReport cmdlet.
Figure 22: Running the Orca cmdlet
This checklist is not an exhaustive security checklist, but it's definitely a baseline set of configurations I recommend to most organizations looking to tighten up their security or those that are just getting started with Microsoft 365. If you are new to Microsoft 365 security, it can be a daunting task securing your environment. I hope this list helps you get started because doing something is more secure than doing nothing at all.
---
Active Directory Monitoring and Reporting
Active Directory is the foundation of your network, and the structure that controls access to the most critical resources in your organization. The ENow Active Directory Monitoring and Reporting tool uncovers cracks in your Active Directory that can cause a security breach or poor end-user experience and enables you to quickly identify and remove users that have inappropriate access to privileged groups (Schema Admins, Domain Administrators). While ENow is not an auditing software, our reports reduce the amount of work required to cover HIPAA, SOX, and other compliance audits.
Access your FREE 14-day trial to accelerate your security awareness and simplify your compliance audits. Includes entire library of reports.