On December 2, 2021, at ~8:43 PM UTC, Microsoft communicated via tweet (@MSFT365status) that they were investigating an issue in which mobile devices were being flooded with Microsoft admin center notifications. More importantly, they were also investigating reports that some system admins were experiencing delays or were unable to access the Microsoft admin center.
For IT professionals and system admins with Microsoft admin center access, the incident # was MO301479. However, given that this issue involved, for some, the inability to access the Microsoft admin center, additional public information at the time of this service incident was limited.
The mobile notification message admins were receiving (repeatedly) mentioned "OneDrive and SharePoint Library dropdown menu". The responses from the admin public on Twitter were many. Several admins on Twitter indicated the repeated notification issue was actually preventing them from using their own mobile devices for other purposes. Some reports estimated that this same mobile notification message was received in excess of several hundred times on one mobile device.
Approximately 20 minutes later, Microsoft sent a second message, indicating that they may have identified a root cause of the issue and were at this time only "exploring" mitigation options.
At 9:36 PM, Microsoft gave another update, indicating that some admins previously affected were now seeing recovery of service. Most Twitter responses at this time were indications that the repetitive mobile notifications had indeed stopped. Little to no Twitter responses spoke to any issues with accessing the Microsoft admin center.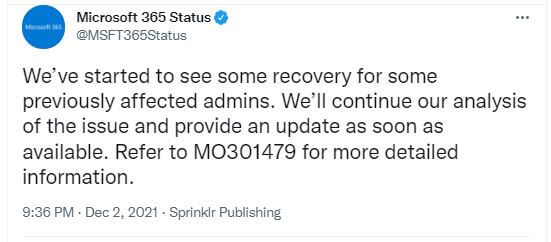 At 9:50 PM, just over an hour after first reporting the issue, Microsoft was now announcing that the matter was fully resolved. There have been no subsequent tweets @MSFT365status as to issue # MO301479.
Several checks of status.office.com during the this time showed no information whatsoever as to any changes in the Microsoft 365 Service Health Status.



---
The Importance of Office 365 Monitoring
In a cloud-world, outages are bound to happen. While Microsoft is responsible for restoring service during outages, IT needs to take ownership of their environment and user experience. It is crucial to have greater visibility into business impacts during a service outage the moment it happens.
ENow's Office 365 Monitoring and Reporting solution enables IT Pros to pinpoint the exact services effected and root cause of the issues an organization is experiencing during a service outage by providing:
The ability to monitor networks and entire environments in one place with ENow's OneLook dashboard which makes identifying a problem fast and easy without having to scramble through Twitter and the Service Health Dashboard looking for answers.
A full picture of all services and subset of services affected during an outage with ENow's remote probes which covers several Office 365 apps and other cloud-based collaboration services.
Identify the scope of Office 365 service outage impacts and restore workplace productivity with ENow's Office 365 Monitoring and Reporting solution. Access your free 14-day trial today!