On December 11, 2020 at ~2:00 pm UTC, Microsoft reported an issue affecting users in the UK that may be preventing them from accessing Microsoft 365 services.
Shortly after, Microsoft reported that they had been receiving reports that some users outside of the UK may also be experiencing the issue.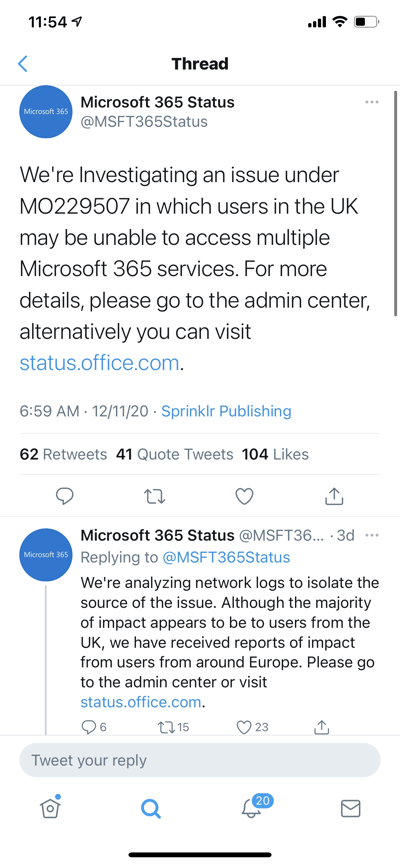 Many users took to Twitter to express their frustrations with the resent stream of outages Microsoft users have experienced. While others confirmed they were in fact experiencing the issue outside of the UK.

A few hours later at 4:00 pm UTC, Microsoft reported that they had moved user traffic away from infrastructure that was performing below expected thresholds and that most impact had been resolved.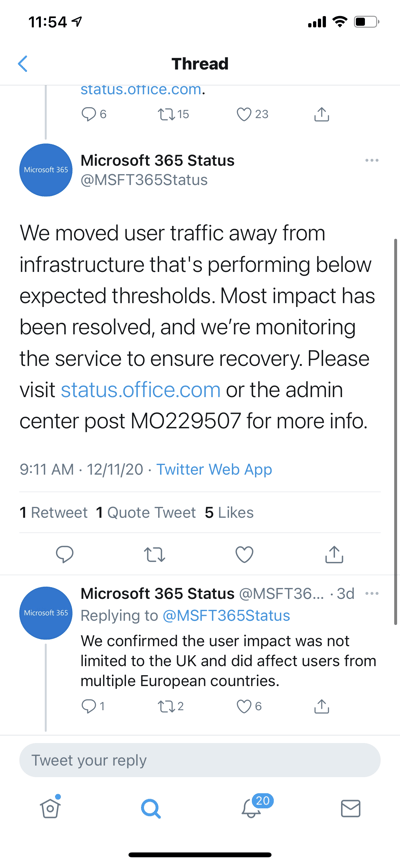 The Importance of 365 Monitoring
With more workers than ever working remote, Microsoft has experienced an increased number of outages with Office 365 in recent months. Reliance of Office 365's cloud-based services is at an all-time high which is why it's important than ever that your organization have the proper monitoring in place. Without the proper monitoring in place, IT Pros are left in the dark when outages do occur and your organization is unable to mitigate the impact for users.
Equipping your IT Pros and users with the appropriate tools to manage an outage allows your organization to face as little impact as possible which is why it's so important to have Office 365 monitoring in place. The right monitoring leaves a breadcrumb trail for IT Pros to follow that leads them directly to the root cause of any outage and allows them to address those issues as efficiently as possible.
Office 365 Monitoring with ENow
The right Office 365 monitoring provides your organization with the right tools to manage an outage efficiently and effectively. It allows IT Pros to avoid any major impact your organization may otherwise face.
ENow's remote probes give IT Pros the full picture of services, as well as subsets of services that an outage is affecting. Without the proper solution, this information isn't available to your organizations and makes identifying issues during an outage that much harder. IT Pros are also able to monitor the status of multiple services through end user experience monitoring probes that cover a range of Office 365 apps and cloud-based collaboration systems like OneDrive, Zoom and Salesforce.
Lastly, the ENow Dashboard consolidates all outage information into one location which eliminates the need to frantically refresh Twitter and check the Service Health Dashboard for answers.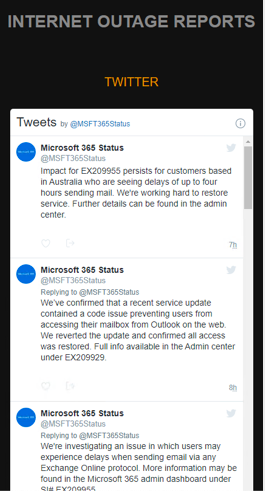 Tired of being left in the dark during service outages? Try ENow's Office 365 Monitoring solution.