On July 8, 2020 at 2:45 pm UTC, Microsoft reported an issue affecting a multitude of users in North America that prevented them from joining Microsoft Teams meetings.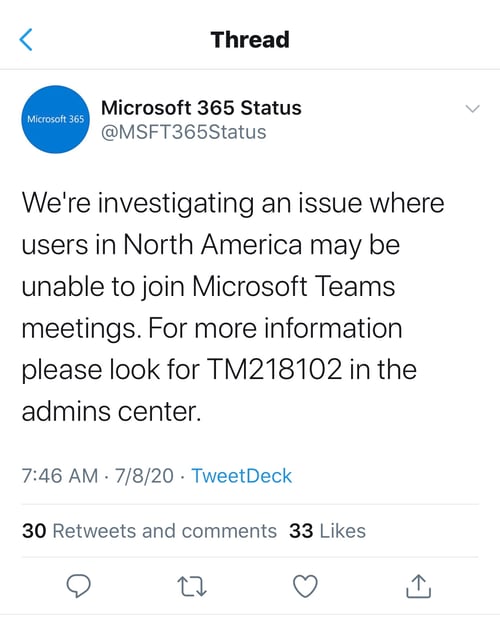 The issue persisted just over an hour until Microsoft finally reported at roughly 4:00 pm UTC that the issue had been resolved.
The Importance of 365 Monitoring
The number of remote workers relying on cloud-based services has reached an all-time high during the global pandemic and it seems many won't be transitioning back to an in-office workplace environment for quite some time, if at all. With the situation being what it is, the importance of having the proper office 365 monitoring in place has also become crucial. When you have the appropriate monitoring in place, it allows IT Pros to quickly identify when an outage occurs and pinpoint the root cause of any issues your organization is facing.
Office 365 Monitoring with ENow
Equipping your IT Pros and users with the appropriate tools to manage an outage allows your organization to face as little impact as possible which is why it's so important to have Office 365 monitoring in place. The right monitoring leaves a breadcrumb trail for IT Pros to follow that leads them directly to the root cause of any outage and allows them to address those issues as efficiently as possible.
ENow's remote probes give IT Pros a full picture of all services and subsets of services that are affected during an outage. Without the right Office 365 Monitoring and Reporting Solution in place, it's impossible for IT Pros to have access to this information and ultimately leaves your organization in the dark. In addition to ENow's remote probes, IT Pros are also able to manage the status of multiple services through the end user experience monitoring probes which ranges over several Office 365 apps and other cloud-based collaboration systems like Zoom, OneDrive, and Salesforce.
The ENow dashboard provides IT Pros with one place to monitor outages which eliminates the need to scramble for answers in the Service Health Dashboard or Twitter!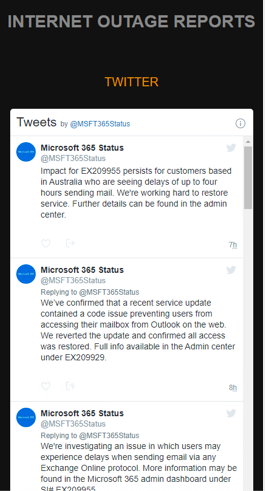 ---
Tired of being left in the dark during service outages? Try ENow's Office 365 Monitoring solution.