On May 5th, 2020, Microsoft 365 Status reported a Microsoft Teams outage in North America at ~ 8:00pm UTC.

Microsoft initially reported that many users were experiencing problems viewing presence information in Teams in the North American region. However, roughly a half an hour later, Microsoft revised their initial statement and reported that users were being affected worldwide.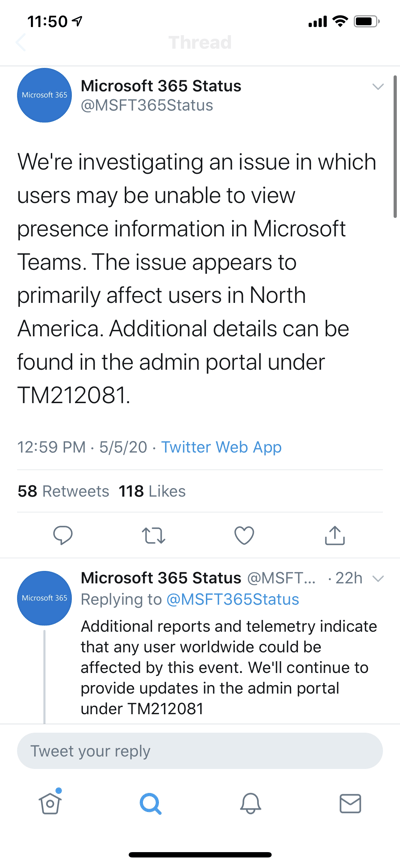 Users from all over responded that they were experiencing issues and expressed their frustrations.
Microsoft determined the issues were the result of a recent configuration change that led to a spike of memory utilization on infrastructure that facilitates user presence requests. In order to resolve the issue, they began failing traffic over to an alternate infrastructure and continued to monitor the service while the process completed.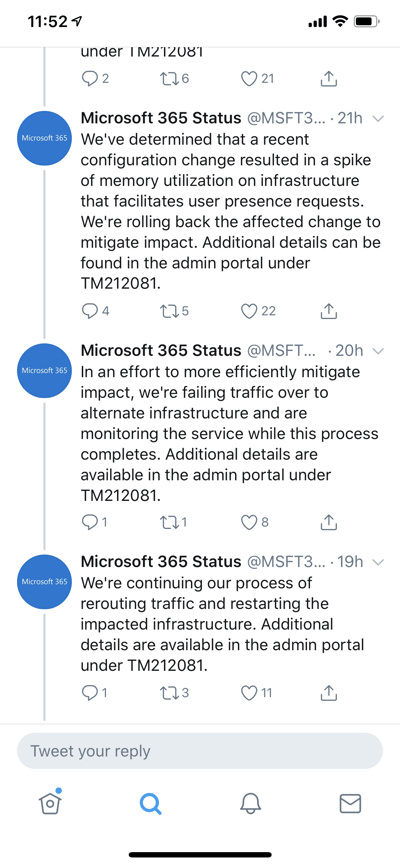 Finally, roughly 5 hours later, Microsoft reported their efforts were successful and they were able to revert the configuration, reroute traffic, and restart the impacted infrastructure.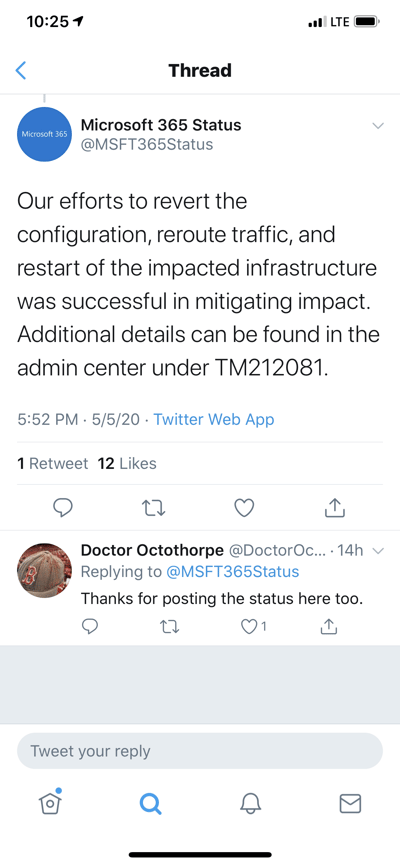 The Importance of 365 Monitoring
Microsoft has experienced an increased number of outages with office 365 in recent months due to the recent major spike in remote workers that are heavily reliant on Office 365's cloud-based services. It's becoming increasingly more important for your organization to have monitoring in place in order to mitigate outage impact for users. Without proper monitoring, both IT Pros and users are left in the dark when outages do occur.
Office 365 Monitoring with ENow
It's critical for both IT Pros and users to be able to understand exactly how an outage will affect your organization which is why you need Office 365 monitoring in place. IT Pros must be able to identify the specific issues your organization is facing when an outage has happened. Having the right monitoring can make this process easier and mitigate the negative impact your organization experiences.
ENow's Office 365 Monitoring and Reporting Solution is designed to pinpoint the exact services that are being effected and the root cause of the issue when an outage occurs. This solution allows IT Pros to monitor their organization's entire environment in a one stop shop. It allows IT Pros to identify problems quickly as well as follow the trail to identify where these problems stem from.
ENow's remote probes allow IT Pros to obtain a full picture of all services, as well as the subset of services affected by a particular outage. Additionally, the end user experience monitoring probes cover a range of Office 365 apps and other cloud-based collaboration systems including Zoom, SalesForce, and OneDrive.
Finally, the ENow dashboard makes it quick and easy to gather all of the info IT Pros need on current outages in one quick and easy place rather than having to obtain information from multiple platforms such as Twitter and the Service-Health Dashboard.
Tired of being left in the dark during service outages? Try ENow's Office 365 Monitoring solution.