On December 7, 2020 at ~3:00 pm UTC, Microsoft reported an issue with call quality within Teams and that more details would be reported shortly.
Soon after, Microsoft reported that the impact described wasn't affecting all calls. They also reported that they were looking at recent deployments to confirm if any constituent elements were contributing to the impact.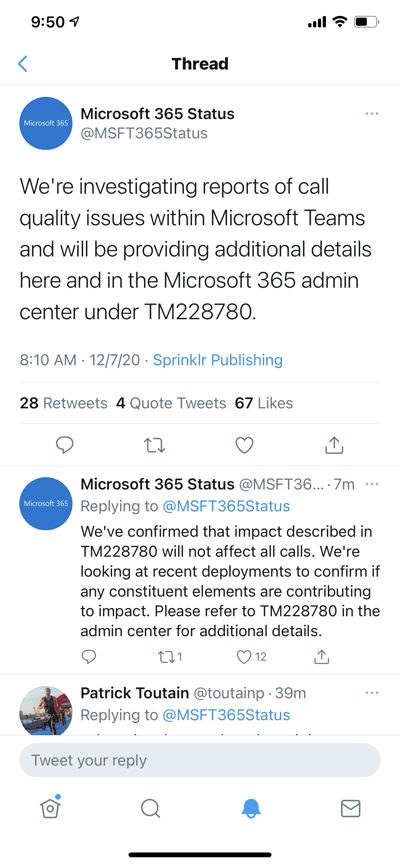 Many users took to Twitter asking for the latest updates on the outage. Others expressed their frustrations with the impact this outage had on company productivity including pushing trainings and meetings.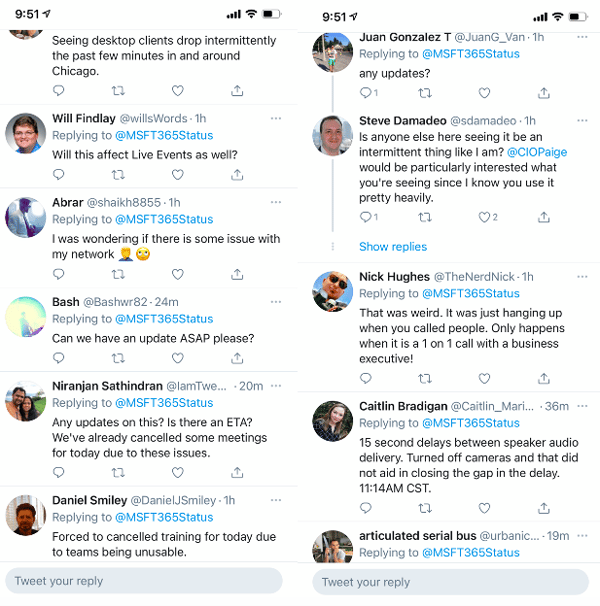 A few hours later at 7:00 pm UTC, Microsoft reported that they identified some processing infrastructure with a higher number of failures than expected and have redirected traffic to accommodate. They also reported seeing signs of improvement and they would provide further details in the admin center.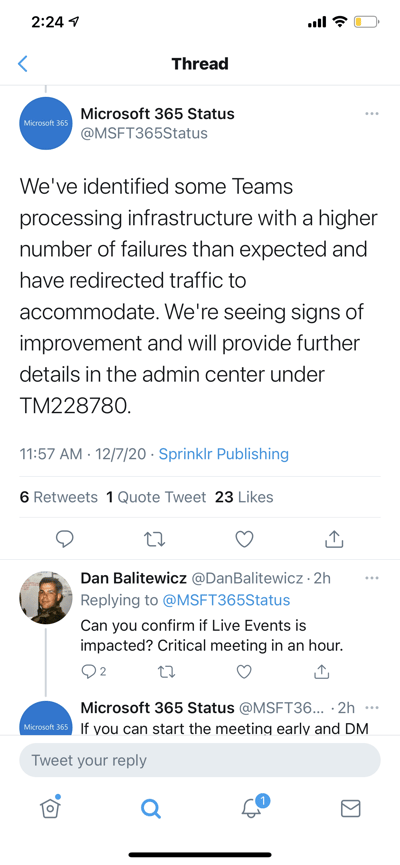 Roughly an hour later, at 8:00 pm UTC Microsoft confirmed that rerouting traffic had mitigated the issue.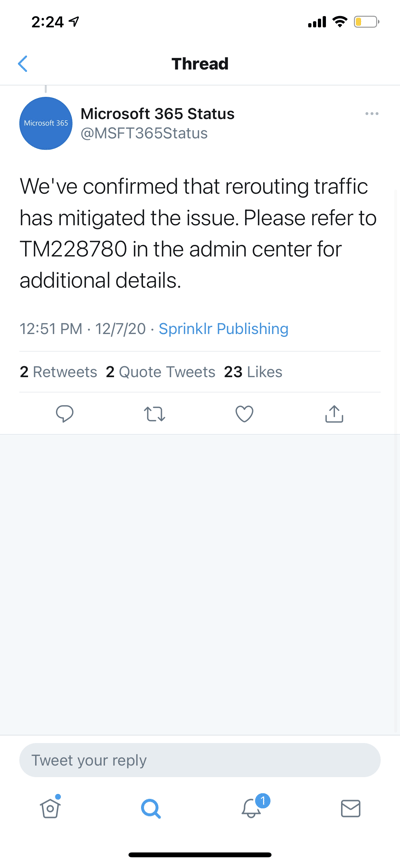 The Importance of 365 Monitoring
With more workers than ever working remote, Microsoft has experienced an increased number of outages with Office 365 in recent months. Reliance of Office 365's cloud-based services is at an all-time high which is why it's important than ever that your organization have the proper monitoring in place. Without the proper monitoring in place, IT Pros are left in the dark when outages do occur and your organization is unable to mitigate the impact for users.
Equipping your IT Pros and users with the appropriate tools to manage an outage allows your organization to face as little impact as possible which is why it's so important to have Office 365 monitoring in place. The right monitoring leaves a breadcrumb trail for IT Pros to follow that leads them directly to the root cause of any outage and allows them to address those issues as efficiently as possible.
Office 365 Monitoring with ENow
The right Office 365 monitoring provides your organization with the right tools to manage an outage efficiently and effectively. It allows IT Pros to avoid any major impact your organization may otherwise face.
ENow's remote probes give IT Pros the full picture of services, as well as subsets of services that an outage is affecting. Without the proper solution, this information isn't available to your organizations and makes identifying issues during an outage that much harder. IT Pros are also able to monitor the status of multiple services through end user experience monitoring probes that cover a range of Office 365 apps and cloud-based collaboration systems like OneDrive, Zoom and Saleforce.
That's where ENow's Office 365 Monitoring and Reporting Solution comes in. It's designed in a way that assists not only IT Pros, but the users within your organization too. This solution identifies which services are affected during an outage and leaves a breadcrumb trail to identify the root cause of the outage. Enow's solution helps IT Pros to monitor your organization's whole environment in one place.
Lastly, the ENow Dashboard consolidates all outage information into one location which eliminates the need to frantically refresh Twitter and check the Service Health Dashboard for answers.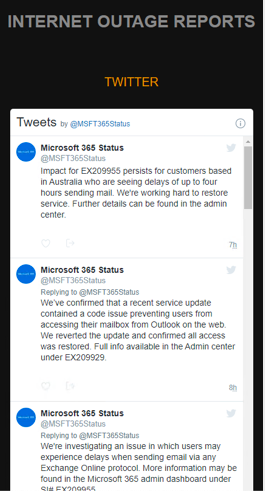 Tired of being left in the dark during service outages? Try ENow's Office 365 Monitoring solution.