On September 28th at roughly ~9:45 pm UTC, Microsoft reported an issue affecting multiple Microsoft 365 services.
Updated as of Tuesday September 29th at 6:00 pm UTC. We will continue to update with the latest information on the outage.
Microsoft reported that they were working to identify the full impact and that they would provide more information shortly.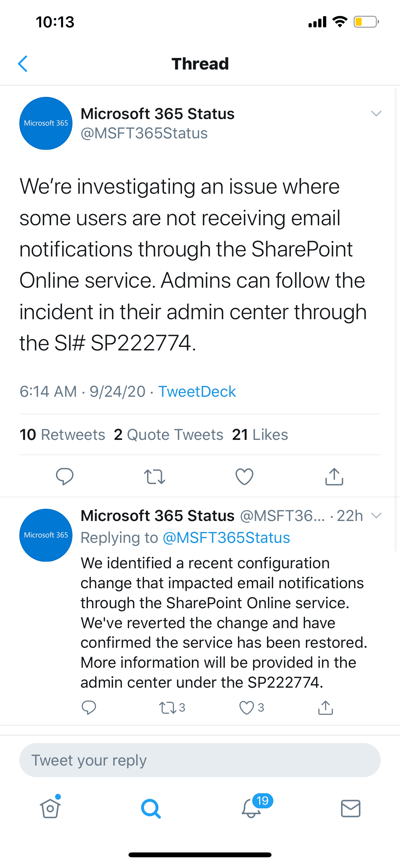 Users were encouraged to look for more information on the outage in the admin under M0222965 as well as status.office.com. Unfortunately, many users were receiving reports that all services were up and running while others were unable to access the site all together.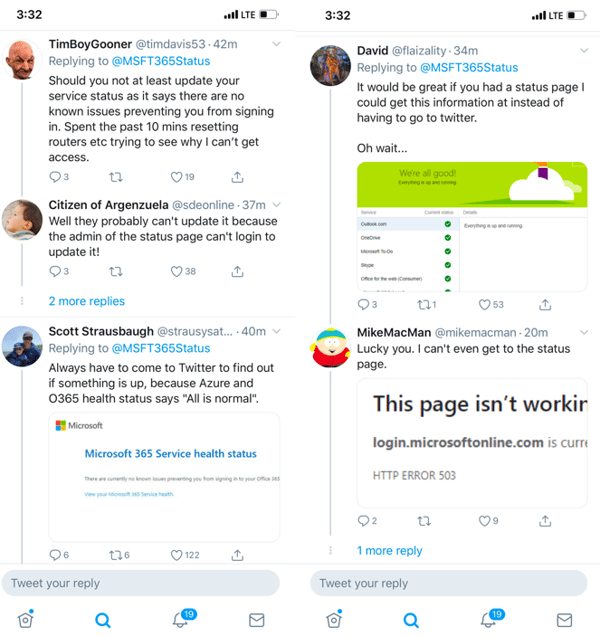 At ~10:15pm UTC, Microsoft reported that they had identified a recent change that appeared to be the source of the issue and were rolling back the change to mitigate impact.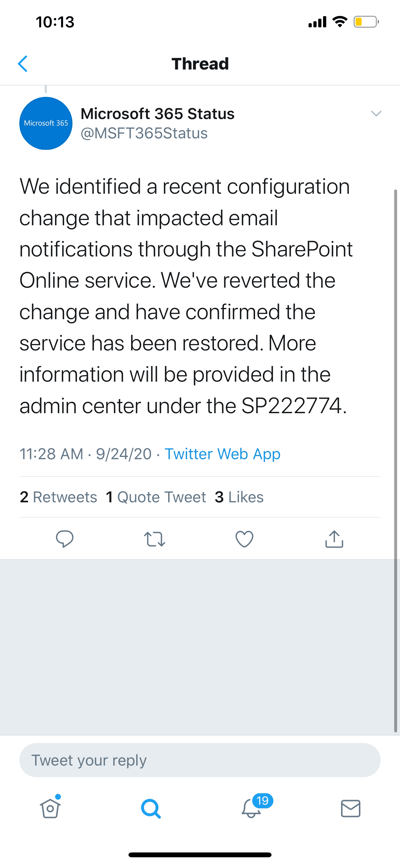 Shortly after Microsoft reported that they had rolled back the change that was likely the source of impact and are monitoring the environment to validate that service is recovering.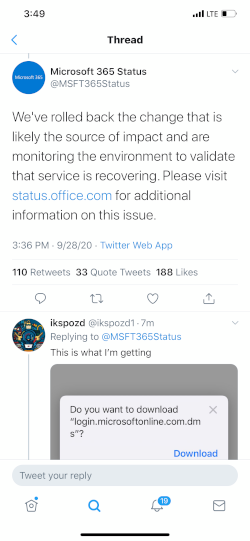 Unfortunately, shortly after Microsoft reported that they had implemented a fix, they shared that they were not observing an increase in successful connections after rolling back a recent change and that they were working to evaluate additional mitigation solutions.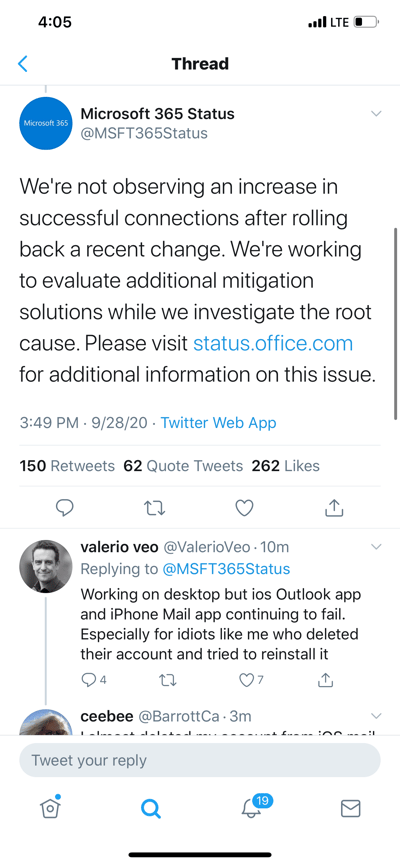 Over 2 hours after Microsofts initial post about the Microsoft 365 services outage, Microsoft reported that they were rerouting traffic to alternate infrastructure to improve the user experience while they continue to investigate the issue.
Finally just after ~12:30 pm UTC, Microsoft reported that they had started seeing improvement for multiple services after applying mitigations steps and that they would continue to monitor the situation.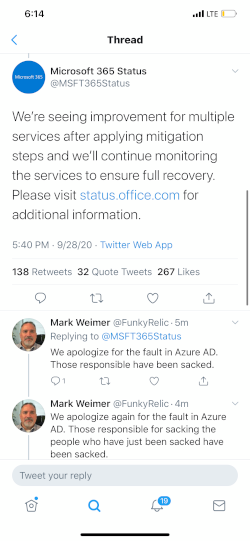 Microsoft shared another update on the outage at ~2:20 am and reported that the majority of services were restored for most users and that they were still closely monitoring some residual impact for a subset of users in North America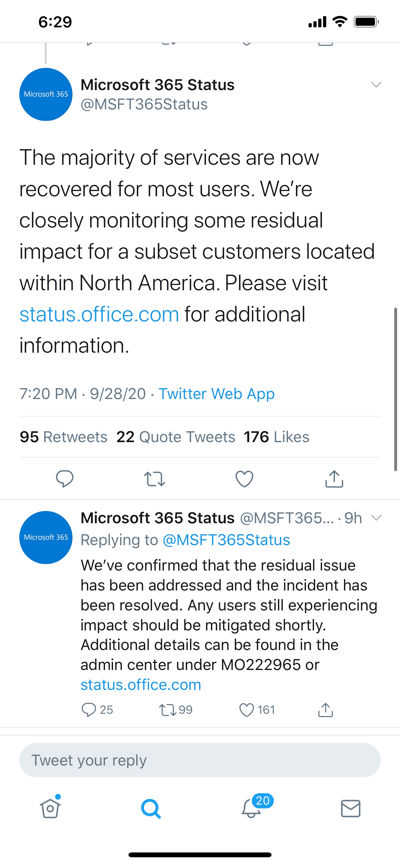 The Importance of 365 Monitoring
With more workers than ever working remote, Microsoft has experienced an increased number of outages with Office 365 in recent months. Reliance of Office 365's cloud-based services is at an all-time high which is why it's important than ever that your organization have the proper monitoring in place. Without the proper monitoring in place, IT Pros are left in the dark when outages do occur and your organization is unable to mitigate the impact for users.
Equipping your IT Pros and users with the appropriate tools to manage an outage allows your organization to face as little impact as possible which is why it's so important to have Office 365 monitoring in place. The right monitoring leaves a breadcrumb trail for IT Pros to follow that leads them directly to the root cause of any outage and allows them to address those issues as efficiently as possible.
Office 365 Monitoring with ENow
The right Office 365 monitoring provides your organization with the right tools to manage an outage efficiently and effectively. It allows IT Pros to avoid any major impact your organization may otherwise face. ENow's dashboard gives you a one stop shop to review all services affected during an outage easily and efficiently.
That's where ENow's Office 365 Monitoring and Reporting Solution comes in. It's designed in a way that assists not only IT Pros, but the users within your organization too. This solution identifies which services are affected during an outage and leaves a breadcrumb trail to identify the root cause of the outage. ENow's solution helps IT Pros to monitor your organization's whole environment in one place.
You are then able to research any issues further by clicking into any of the red boxes. This allows you to drill down to the root cause of the issues your organization is experiencing. For example in this case, we clicked on the Teams & SharePoint error and were led to the following information.
If you continue to follow the bread crumb trail by clicking on any of the errors you see here highlighted in red, you are able to dig deeper until you ultimately identify the root cause of the issues and are able react accordingly to mitigate impact for you organization!

ENow's remote probes give IT Pros the full picture of services, as well as subsets of services that an outage is affecting. Without the proper solution, this information isn't available to your organizations and makes identifying issues during an outage that much harder. IT Pros are also able to monitor the status of multiple services through end user experience monitoring probes that cover a range of Office 365 apps and cloud-based collaboration systems like OneDrive, Zoom and SalesForce.

Tired of being left in the dark during service outages? Try ENow's Office 365 Monitoring solution.