On August 24th at roughly ~5:30 pm UTC, Microsoft reported an issue with users being unable to access the Admin Portal.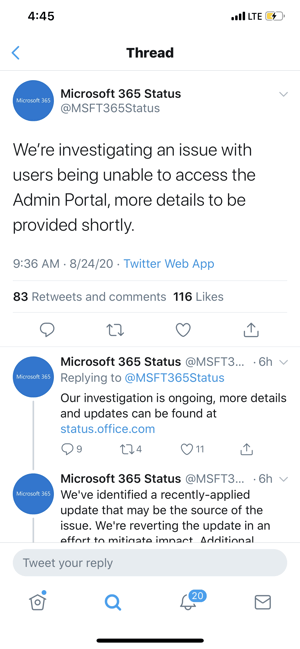 Shortly after, they reported that they had identified that a recently-applied update may have been the source of the issue and that they were attempting to revert the updates to mitigate impact.

Almost immediately, users worldwide began confirming that they were in fact experiencing this issue. While others expressed frustration stating that this is the reason many are hesitant to migrate to the cloud.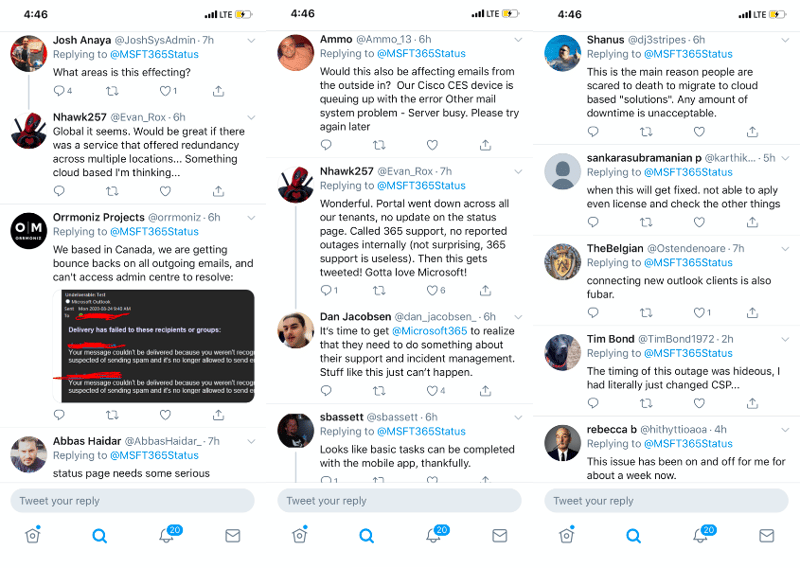 Finally at ~7:15 pm UTC, Microsoft confirmed that a recent configuration change had caused the admin center to become unavailable and that the issue had been resolved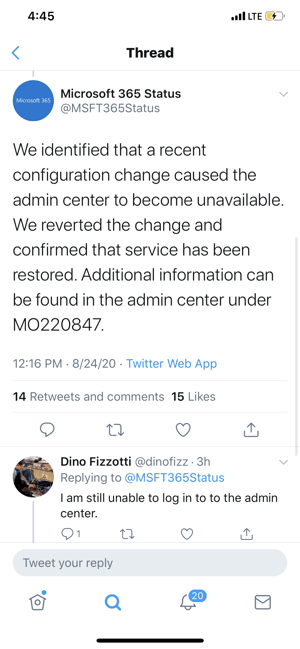 The Importance of 365 Monitoring
The number of remote workers relying on cloud-based services has reached an all-time high during the global pandemic and it seems many won't be transitioning back to an in-office workplace environment for quite some time, if at all. With the situation being what it is, the importance of having the proper office 365 monitoring in place has also become crucial. When you have the appropriate monitoring in place, it allows IT Pros to quickly identify when an outage occurs and pinpoint the root cause of any issues your organization is facing.
Office 365 Monitoring with ENow
With more users than ever working remote, it's so important to have the proper in Office 365 Monitoring place to ensure your organization is prepared when an outage happens. It's critical for your organization to be equipped with the right tools to manage an outage and avoid any major impact you might otherwise face. When you have the right monitoring, it lets IT Pros better prepare when an outage occurs.
That's where ENow's Office 365 Monitoring and Reporting Solution comes in. It's designed in a way assists both IT Pros and users within your organization. This solution identifies the exact services affected by an outage and leaves a trail directly to the root cause of the outage. Enow's solution helps IT Pros to monitor your organization's whole environment in one place.
ENow's remote probes give IT Pros the full picture of services, as well as subsets of services that an outage is affecting. Without the proper solution, this information isn't available to your organizations and makes identifying all of the issues that need to be addressed during an outage that much harder. IT Pros are also able to monitor the status of multiple services through end user experience monitoring probes that cover a range of Office 365 apps and cloud-based collaboration systems like OneDrive, Zoom and Salesforce.
Lastly, the ENow Dashboard consolidates all outage information into one location which eliminates the need to frantically refresh Twitter and check the Service Health Dashboard for answers.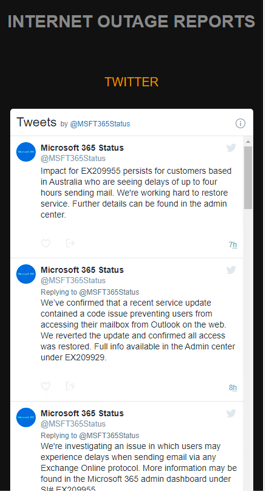 ---
Tired of being left in the dark during service outages? Try ENow's Office 365 Monitoring solution.