Microsoft reported an outage involving SharePoint online and OneDrive for business on June 1, 2020 at ~4:00am UTC. Shortly after, Microsoft 365 Status reported that the issue was primarily isolated to users within Australia.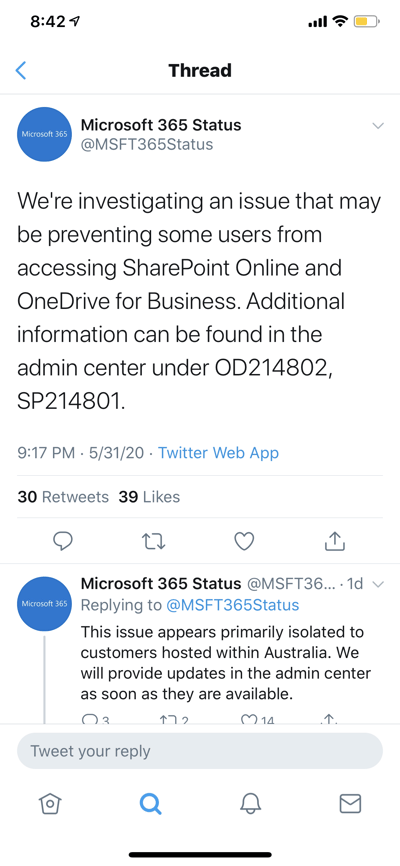 Some users reported issues when attempting to access SharePoint using their ISP however, they were not experiencing issues when using their mobile providers. While others expressed frustrations with the multiple outages and issues the Australian region has experienced in recent months.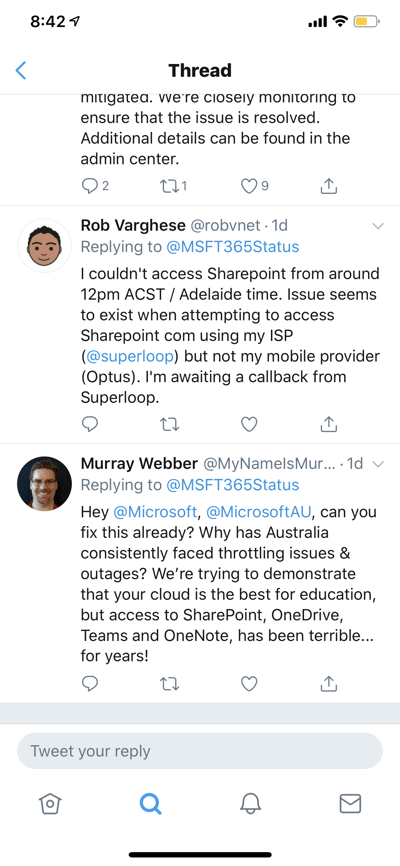 Finally, roughly 2 hours later at ~6:30am UTC Microsoft confirmed that the issue was mitigated, and that Microsoft was closely monitoring the situation for any issues.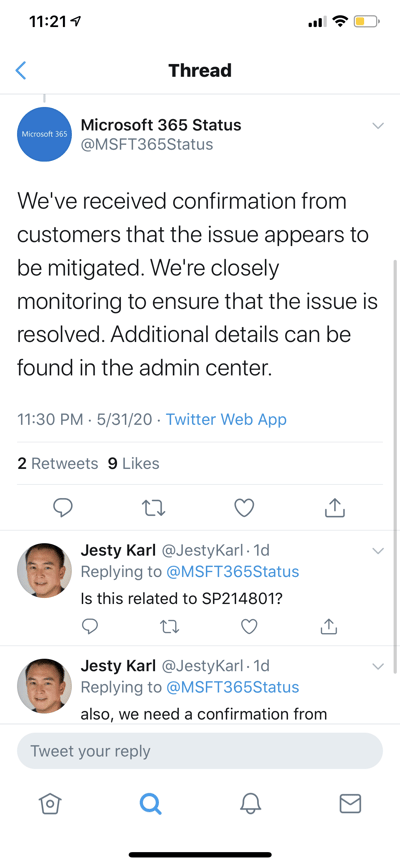 End to End Monitoring with ENow
With more workers than ever relying on cloud-based services, it's become increasingly more important to have the proper Office 365 Monitoring in place. Without the proper monitoring in place, IT Pros and users are left in the dark when an outage does occur. Enow's solution is like your own personal outage detector specific to your organization. Enow's Office 365 Monitoring solution allows IT Pros to monitor all of the crucial components within your organization in one place. When IT Pros are able to know instantly when an outage happens and identify the root cause of the issue, it allows them to solve any issues as quickly and efficiently as possible.
Enow's remote probes provide IT Pros with a full picture of all services and subsets of services that are affected during an outage. The end user experience monitoring probes cover a range of Office 365 apps and other cloud-based collaboration systems.
The ENow dashboard makes it quick and easy to gather all of the info IT Pros in your organization need during an outage in one quick and easy place. This allows IT Pros to avoid refreshing twitter and the Service Health Dashboard for vague answers and implement a solution to the outage to mitigate its effect on your organization.
---
Tired of being left in the dark during service outages? Try ENow's Office 365 Monitoring solution.