On June 19th, 2020 at ~7:00am UTC, Microsoft reported that they were investigating an issue where users in Japan and the APAC region were unable to access the Microsoft Teams service through desktop client.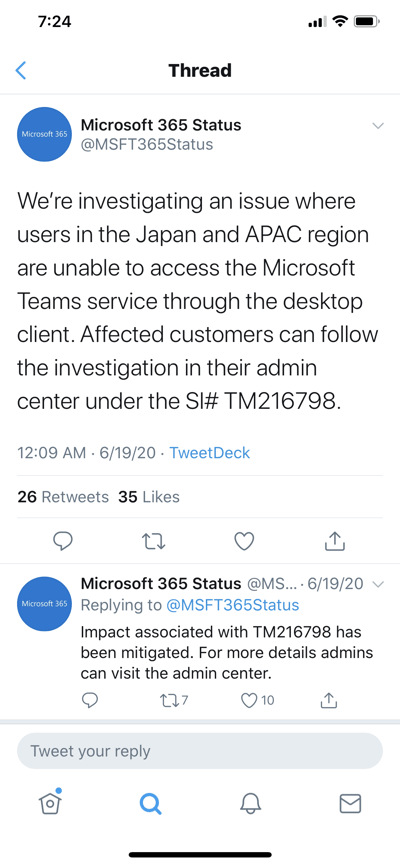 Roughly an hour later at ~8:30 am UTC, Microsoft reported that the issue had been mitigated and that access had been restored through Japan and APAC.
The Importance of Office 365 Monitoring
Right now, there are more workers working remote than ever before. This is likely the new norm for many of us for at least the next few months. This means an increased number of users are heavily relying on cloud-based services like Microsoft Teams. Not having the ability to access these services when an outage occurs is extremely frustrating and slows down productivity. Which is why it's more important than ever to have the proper Office 365 monitoring in place. The proper monitoring provides your IT Pros with the tools they need to handle these outages as efficiently and smoothly as possible in order to mitigate the affect these outages have on your organization.
Office 365 Monitoring with ENow
That's where ENow's Office 365 Monitoring and Reporting Solution comes in. It's designed to assist both IT Pros and users in identifying which services are being affected during an outage. Then IT Pros are able to use this information to follow the breadcrumb trail to the root cause of the issue. Understanding the root cause of an outage is critical when it comes to resolving the issues your organization is experiencing during an outage.
ENow's remote probes give IT Pros a full picture of all services and subsets of services that are affected during an outage. Without a monitoring and reporting solution in place, this is impossible to do and leaves your organization in the dark. In addition to ENow's remote probes, IT Pros can monitor the status of a multitude of services through the end user experience monitoring probes which range over multiple Office 365 apps and other cloud-based collaboration systems like Zoom, OneDrive, and Salesforce
The ENow dashboard gives IT Pros one place to monitor outages which eliminates the need to scramble for answers in the Service Health Dashboard or Twitter.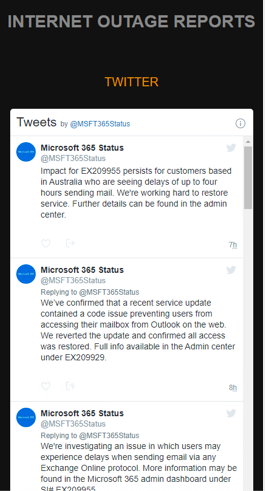 ---
Tired of being left in the dark during service outages? Try ENow's Office 365 Monitoring solution.