On November 10th, 2020

at ~5:15pm UTC, Microsoft reported an outage preventing some users from accessing Outlook.com and that additional information would be provided shortly.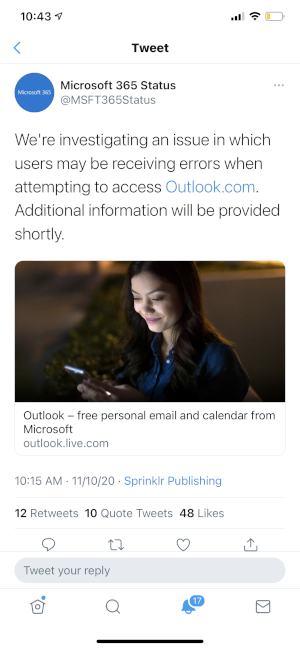 Many confirmed they were unable to access outlook from their mobile phones or laptops. Some suggested that Microsoft's spam and security processing is in need of refining due to the recent stream of outages Microsoft users have had to endure.
At roughly 5:45 pm UTC, Microsoft reported that they had determined that additional services such as OneDrive, SharePoint Online, and PowerBI. They were reviewing log data to better understand the issue.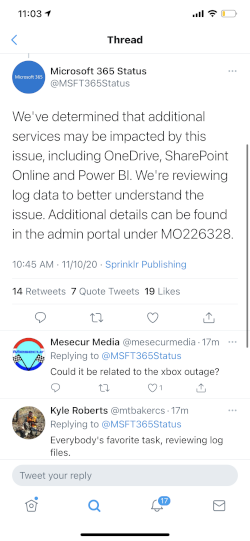 At 6:30 pm UTC Microsoft reported that further investigation into the issue had determined that impact is specific to consumer services including Outlook.com and OneDrive.com. While some users may be unable to access SharePoint Online using a consumer log-in as a guest account.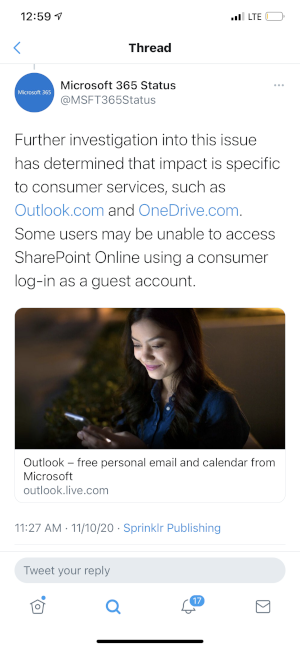 At 12:30 am UTC, Microsoft reported that they were continuing to observe the affected environment to confirm that the issue has been mitigated. At ~6:30 am UTC on November 11th, Microsoft reported their monitoring continues to indicate that impact has been mitigated for a majority of users and they would continue to observe their telemetry to ensure no other issues arise.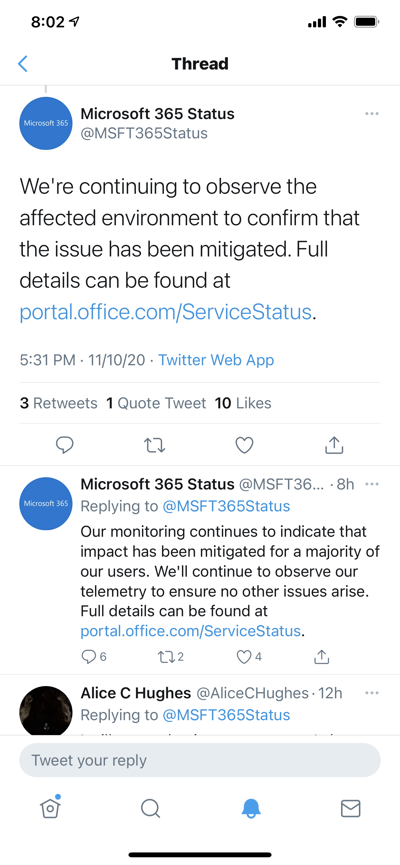 The Importance of 365 Monitoring
When your organization doesn't have the proper monitoring in place, IT Pros and users alike are left in the dark when it comes to the root cause of an outage as well as the best solution moving forward. Proper Office 365 Monitoring turns the light back on and allows IT Pros to mitigate the impact your employees experience during and outage ultimately promoting a boost in productivity within your organization.
Office 365 Monitoring with ENow
The right Office 365 monitoring provides your organization with the right tools to manage an outage efficiently and effectively. It allows IT Pros to avoid any major impact your organization may otherwise face. For example, our solution was able to quickly identify that the root cause of this particular outage was an OWA login issue which allowed our customers to quickly identify the cause of the issue and react accordingly to prevent down time and a decrease in productivity.
ENow's remote probes give IT Pros the full picture of services, as well as subsets of services that an outage is affecting. Without the proper solution, this information isn't available to your organizations and makes identifying issues during an outage that much harder. IT Pros are also able to monitor the status of multiple services through end user experience monitoring probes that cover a range of Office 365 apps and cloud-based collaboration systems like OneDrive, Zoom and Saleforce.
That's where ENow's Office 365 Monitoring and Reporting Solution comes in. It's designed in a way that assists not only IT Pros, but the users within your organization too. This solution identifies which services are affected during an outage and leaves a breadcrumb trail to identify the root cause of the outage. Enow's solution helps IT Pros to monitor your organization's whole environment in one place.
Lastly, the ENow Dashboard consolidates all outage information into one location which eliminates the need to frantically refresh Twitter and check the Service Health Dashboard for answers.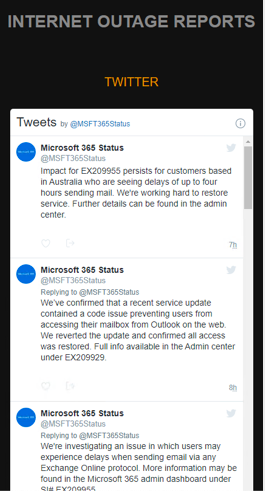 Tired of being left in the dark during service outages? Try ENow's Office 365 Monitoring solution.