On June 25th, 2020 at ~2:00 pm UTC, Microsoft reported that they were investigating connectivity problems with Outlook in Europe and the United Kingdom.
Roughly an hour later, Microsoft reported that they were starting to see service restoration and were still monitoring the issue closely to ensure the issue was resolved.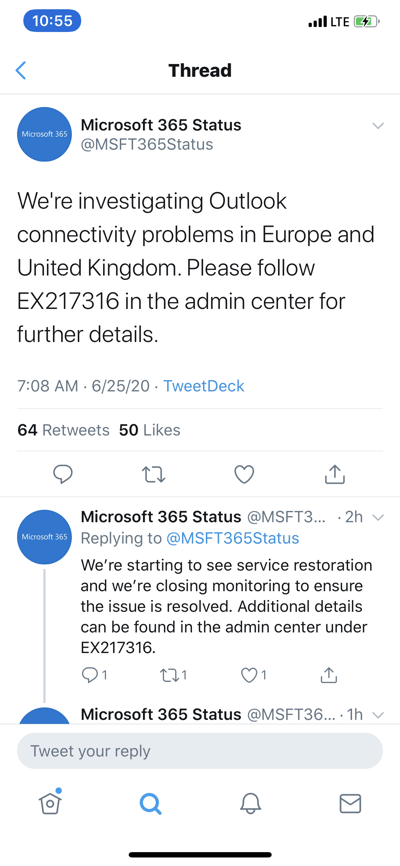 Several confirmed they were experiencing issues within Europe and the UK as well as in India. While others expressed their frustrations with the increased number of outages as the number of remote workers has reached an all-time high.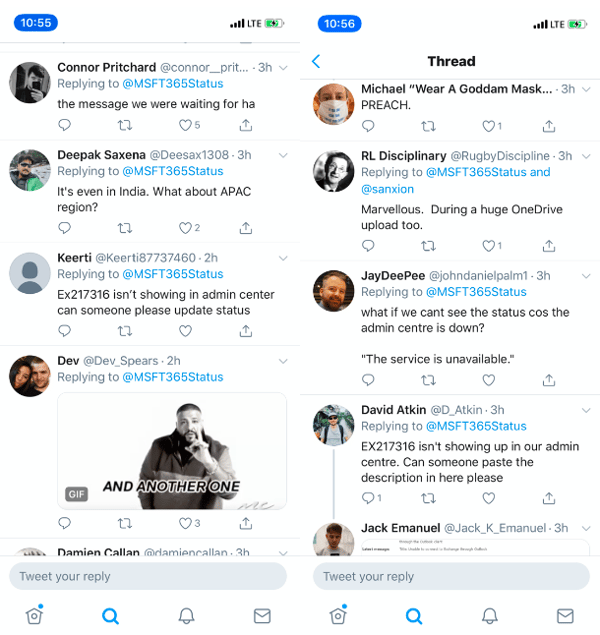 Finally, at Roughly 4:00 pm UTC, Microsoft reported that the service had been recovered after an extended period of monitoring.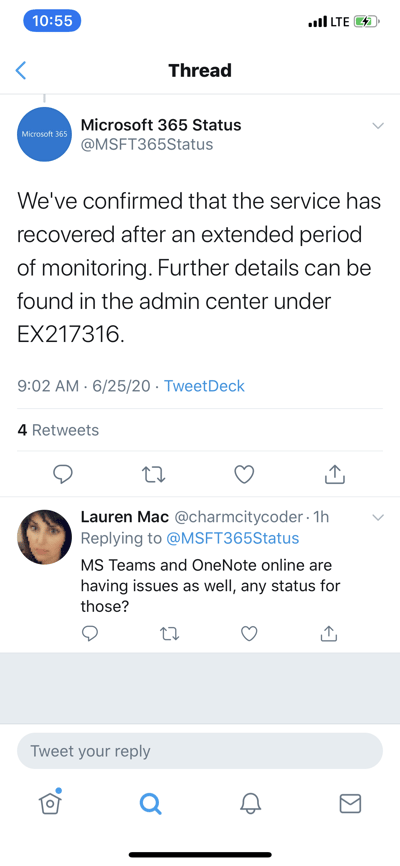 The Importance of Office 365 Monitoring
As the number of remote workers has reached a record high in recent months, reliance on Office 365's cloud-based services has also increased. Due to the heavy reliance on cloud-based services, Microsoft's recent outages have also been at an all-time high. This means that having the proper Office 365 Monitoring in place is more important than it's ever been before. When you don't have the proper monitoring in place, IT Pros are left in the dark and are unable to help mitigate the impacts their organization experiences during an outage.
Office 365 Monitoring with ENow
It's crucial for not only IT Pros, but users too, to be able to understand exactly how an outage is affecting your organization. That's where Office 365 monitoring comes in! With the right monitoring, IT Pros can identify the specific issues your organization can expect to face during an outage and help mitigate those issues.
ENow's Office 365 Monitoring and Reporting Solution is designed in a way that allows IT Pros to pinpoint the exact services effected as well as the root cause of the issues your organization is experiencing. It gives IT Pros the ability to monitor their organization's entire environment in one place which makes identifying a problem fast and easy.
ENow's remote probes allow IT Pros to obtain a full picture of all services and subsets of services affected during an outage. Additionally, the end user experience monitoring probes cover several Office 365 apps and other cloud-based collaboration services.
Finally, the ENow dashboard makes it quick and easy to gather all of the info IT Pros need on current outages in a quick and easy place. That means you don't have to scramble through twitter and the Service Health Dashboard looking for answers!
---
Tired of being left in the dark during service outages? Try ENow's Office 365 Monitoring solution.