When thinking of Active Directory, Exchange Server, or even SharePoint, which group object types come to your mind?
Most likely, you think of the following group types:
Security groups
Email enabled security groups
Distribution groups
Dynamic distribution groups
SharePoint groups
All of these group types exist in Microsoft 365 as well. But those groups are legacy group types that did not provide the required functionality when Microsoft planned for modern collaboration solutions, e.g., Microsoft Teams, which we have today. Therefore, Microsoft developed a new group type named Office 365 Group which got renamed to Microsoft 365 Group.
A Microsoft 365 Group controls access and permissions to multiple Microsoft 365 workloads, i.e., Planner, Microsoft Teams, or Stream, enabling the members to collaborate efficiently. Members of a Microsoft 365 group have roles depending on their account type. You can define if a group member is an owner, a member, or a guest. You can add members of your organizational directory or external guests as members.
The confusion begins when we take a detailed look at how you create a Microsoft 365 group.
The following diagram shows selected Microsoft 365 applications that create or rely on an existing Microsoft 365 group: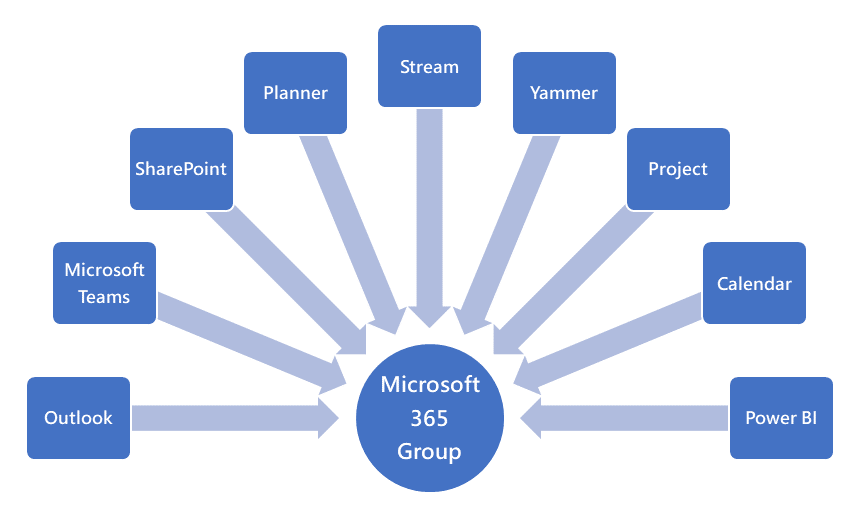 You are usually unaware that you create a new Microsoft 365 group when you use one of the workloads mentioned in the diagram. A Microsoft 365 group starts its journey under different names depending on the workload you use. It can start as:
a team in Microsoft Teams
a site in Sharepoint Online
a group in Stream
a project with a group in Project
a community in Yammer
a group in Outlook
…
But a Microsoft 365 group is not only an object controlling access and permissions. Each group consists of two essential components:
Exchange Online Group Mailbox
SharePoint Online Group Team Site
The following diagram illustrates this component dependency: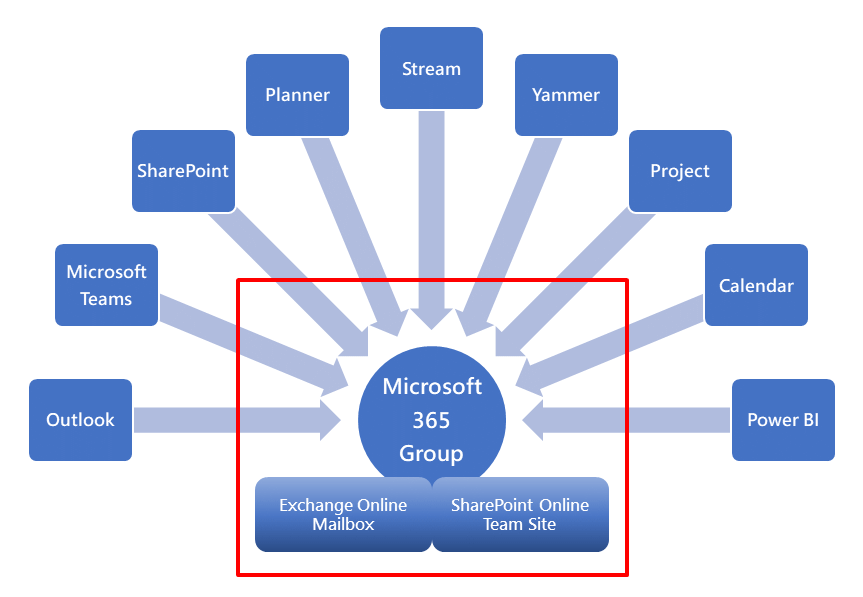 By default, every user in your organization can create a team in Microsoft Teams, a Planner plan, or a Stream channel. You always have a group mailbox and a team site whenever you start a Microsoft 365 Group. The team site is not related to Microsoft Teams, but the SharePoint site template "Team site." Without end-user training, your directory will end up in a mess.
The idea of end-users creating new Microsoft 365 Groups follows "democratizing IT" by shifting responsibility from IT departments to the end-users. This principle does not suit all organizations. Therefore, some organizations limit the ability to create new Microsoft 365 Groups to a group of trained users or use a workflow-based software solution.
Be aware that the (not so new) Microsoft 365 Group type is the default selection when creating a new group as an administrator in Microsoft 365 or Exchange Online Admin Center.
You manage Microsoft 365 Groups in the Exchange Online Admin Center or Exchange Online Management Shell. In addition, you can use the Microsoft 365 Admin Center to organize your groups, which provides more control for selected group settings. In PowerShell, you use the UnifiedGroup-cmdlets for additional configuration of the Microsoft 365 Groups.
The use of Microsoft 365 Groups requires proper governance planning. We will take a closer look at group governance in a future blog post.
Links:
Enjoy Microsoft 365 Groups!
---
Exchange Hybrid and Office 365 Monitoring and Reporting
On-premises components, such as AD FS, PTA, and Exchange Hybrid are critical for Office 365 end user experience. In addition, something as trivial as expiring Exchange or AD FS certificates can certainly lead to unexpected outages. By proactively monitoring hybrid components, ENow gives you early warnings where hybrid components are reaching a critical state, or even for an upcoming expiring certificate. Knowing immediately when a problem happens, where the fault lies, and why the issue has occurred, ensures that any outages are detected and solved as quickly as possible.
Access your free 14-day trial of ENow's Exchange Hybrid and Office 365 Monitoring and Reporting today!