In the past and even today, we are used to "share" documents and files by sending copies as email attachments. This behavior is often the source of end user frustration when message size limitations are enforced. Especially when size limitations for internal and external recipients are different. Users do not understand why they cannot send any file to any recipient of their choice.
This is where modern attachments kick in. Modern attachments provide an easy and secure way for collaborating and sharing of a single copy of a document.
But what are modern attachments?
Modern attachments is a OneDrive for Business feature that integrates with modern Outlook clients. Instead of attaching documents as classic file copies to an email message you add a document link to your email. While adding the link to your document you must decide whether the recipients can edit the document or can access the document in read-only mode only.
The following screenshot shows how to attach a file that is already stored in your personal OneDrive or in your OneDrive for Business location. You can easily browse both storage location from within Outlook. You can even browse and select Microsoft Teams documents.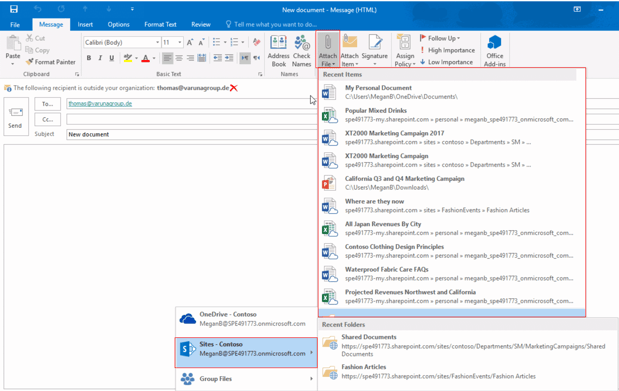 The "recent items" list makes it even simpler to share documents that you've recently worked on. The list of recent items is synchronized across devices, which makes working with modern Office products to easy.
The following screenshot shows how easily the sharing permissions are set when composing an email.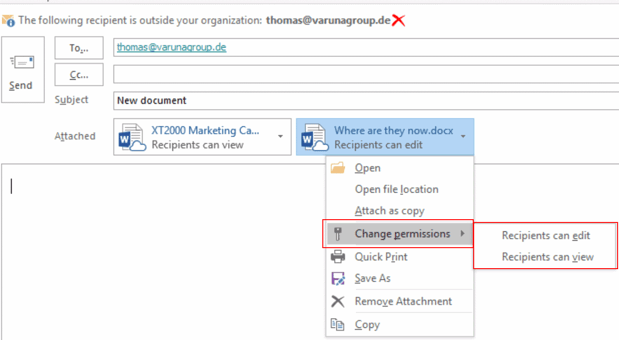 With deep Office integration and its desktop real-time co-authoring and in app sharing, you can start a document on one device and seamlessly finish it on another.
OneDrive for Business is different. It is not just a synchronization client or standalone product, but part of an ecosystem. Therefore, OneDrive for Business provides Office 365 collaboration with rich integration across products.

As part of a simplified team collaboration you can access your Team Sites directly from within OneDrive for Business on the web. The OneDrive sync clients supports you by providing synchronization capabilities for Team Sites and Shared Folders.
What are the requirements for modern attachments?
As an enterprise administrator, you want to control how your users can share documents with external users. OneDrive for Business provides an Administrative Center for controlling if and how users can share documents.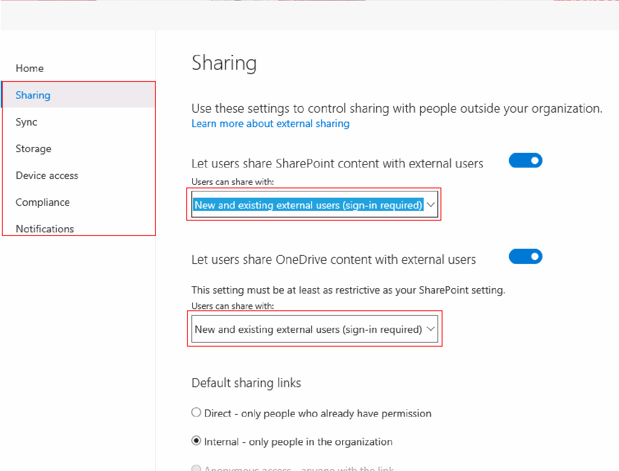 The OneDrive Admin Center in Office 365 provides a simplified interface for managing all sharing, synchronization, storage quota, device access, and compliance policy settings. The default SharePoint Admin Center does not provide such a convenient collaboration centric console.
Check out the new OneDrive Admin Center at https://admin.onedrive.com
Summary
OneDrive for Business and modern attachments integrate in on-premises infrastructures as well. But you will only benefit from the full collaboration features with Office 365, as Microsoft Teams is an Office 365 only feature. If you are currently using an on-premises SharePoint 2016 infrastructure, you must be aware that external sharing requires to publish the appropriate endpoints to the internet. Otherwise, external recipients will receive an error when accessing modern attachments.
It's time to move to modern collaboration by using modern attachments with OneDrive for Business with Outlook 2016 and Office 365.