This is a blog post I never thought I'd write, and just a short time ago, I couldn't have imagined it would be something that you'd want to spend 10 minutes reading. Turns out "the cloud" really does keep us on our toes.

Recently I've seen some new features in Office Pro Plus, and they are pretty cool. I'm just as surprised as anyone to be interested in PowerPoint and Word updates, but stranger things have happened I guess. In this blog post, I will go into detail on recent Office Pro Plus updates. I'll talk about some new features I discovered and how they're improving the Office product.
Spelling and Grammar checker
I am terrible at spelling. I mean I am bad on levels that you just cannot fathom. Thirty years ago, I could not have been the professional writer I am today. The concept of a spell checker is nothing new, but Microsoft recently made some improvements to its spell checker that are worth calling out.
Microsoft has recently upped that game with a new feature. Below is a screen shot of a sentence I wrote above. I used an unnecessary adverb, and Word helped me out.



As you can see, I get much more detail on the suggested change to the text. It tells me I should be more clear and concise in my writing and suggests eliminating the word "actually."
But wait, there's more…
Have you ever known you misspelled a word, but not been completely sure if the suggestion is the word you're looking for? Now the spell checker will read you the suggested word, and give you its definition, as shown below.

OK, so maybe this won't change your life, but it's still cool. Certainly, a fine reason to deploy Office Pro Plus. Your old Office 2010 won't be getting new features like this.
Ink Replay
I'm writing this on a Surface Book. I wasn't originally a huge fan of touch screens, but these days, I don't prefer to work without one at least available. I don't use it all the time, and the big monitors I use when my laptop is docked on my desk are not touch screen. But I don't think I'll go back to using a laptop without a touch screen anytime soon. I'm certainly not interested in a "touch bar" as a substitute.
One of the problems with drawing on the screen is that inking can end up being confusing. I like to make notes for myself with the pen on top of my slides when I am creating a deck. When you end up with a slide that looks like the one below, it can be difficult to decipher.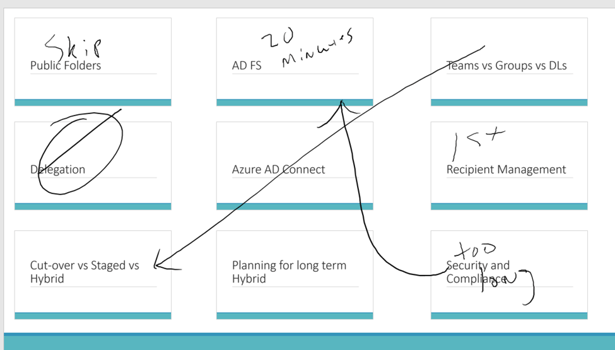 Inking replay gives you the ability to replay the drawings in the order they were put down. It makes a movie of whatever you do on the screen so you can replay it later. That's kind of hard for me to show you on a static blog post, but I hope you get the idea.
Again, probably not a life-changing new feature, but it is something I can see myself using.
PowerPoint Slide Links
I don't know what this feature is technically called because it's not listed on the "What's new for PowerPoint" support page. I assume it'll show up there at some point.
Regardless of the name, this feature is nifty. It enables you to drag multiple PowerPoint slides onto another PowerPoint slide to create a link to a specific spot in your deck. I'm not sure if that description makes sense, but it looks like this.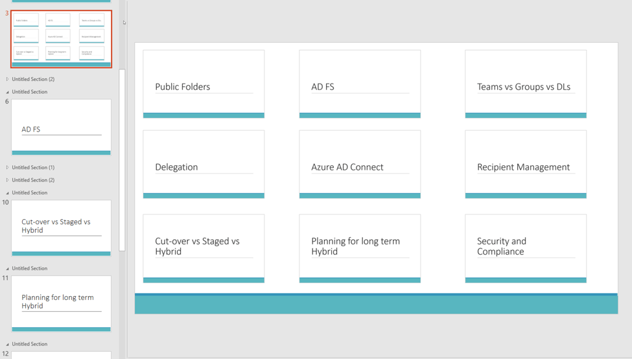 As you can see in the picture above, I dragged section header slides into one specific slide in this deck. When I'm on slide #3 in a presentation, I can click on any of the slide pictures on that slide, and the presentation will jump to that section.
As someone who does lots of PowerPoint presentations, this will come in handy when jumping between topics based on the live audience's interest. The deck shown above is from a webcast session I'll be doing in a few weeks. I have more content that I'll be able to cover in the hour presentation, so I'll give the audience the option to choose which sections I focus on.
Outlook Events
I get a lot of packages delivered to the house. I work from home, and I make heavy use of Amazon Prime. I might go an entire week without leaving the house. The point is, I have all kinds of deliveries coming to the house, and sometimes it can be hard to keep track of what's coming when.
Now Outlook can automatically add events to your calendar to help you keep track of package deliveries and upcoming flights.
You can control this behavior from OWA by going into Settings > Your App Settings > Calendar > Events from email as shown below.
The Wrap Up
The point here is the cloud keeps moving. It's not just the server side of things that is always being updated these days. If you're an Office 365 customer, you can expect to get constant updates to even your fat client Office programs on a regular basis.
Maybe more importantly, older versions of your locally installed programs are not going to be supported forever. As Microsoft has recently announced, Outlook Anywhere connections to Office 365 will not be supported after October 31, 2017. This means older Outlook clients, like Outlook 2007, will not work for Office 365 customers past that date. In a cloud-first world, you will have to keep current. If that is not part of your organization's culture, I recommend you start making some changes.